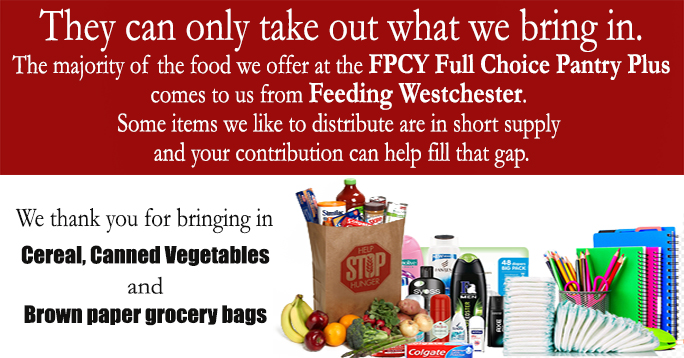 The Food Pantry will continue to update us on their current needs, as shopping at Feeding Westchester can be just as "interesting" as it is for all of us at the local grocery store. Bringing suggested items to the church can really help fill the gaps.
There are bins outside the back doors of the Sunday School building for donations, which are brought into the building daily. (The bins are just across the playground from the back parking lot.) Next Pantry Dates: 23 and May 30, 8 to 11am. More information can be found on our Food Pantry Page.
FPCY PANTRY MATCHING GRANT—With the start of the new year, the FPCY Pantry grant matching program begins anew. Throughout the year, every dollar is matched up to at least $10,000. Please consider supporting our FPCY Pantry, an outreach that provides food to clients twice a month throughout the year. Gifts can be given via mail or online. Make sure to mark gifts "FPCY Pantry" when submitting a check.