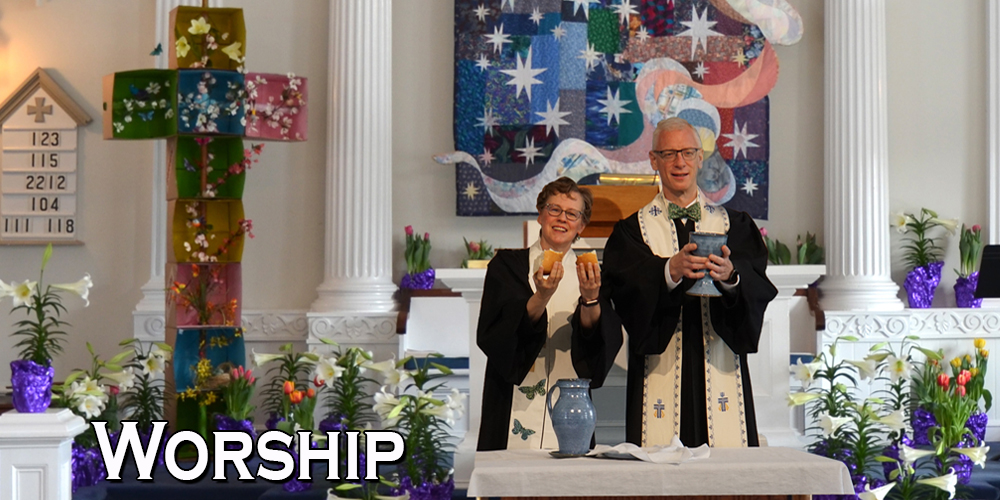 Due to the current high prevalence of COVID-19 in our area, we are pausing all in-person activities until January 17. This includes in-building meetings and worship services. There will be a single online worship service Sundays at 10:30am on our Facebook page (watch live or anytime later).
We have in-person Sunday worship services at 8am and 10:30am, and we continue online streaming of our 10:30am service.
Please see our Covid protocols on the last page of our reopening brochure. Note that masks are required everywhere in our building regardless of vaccination status for those over the age of 2.
Children of any age are invited to all services. Child care is available for infants through kindergarten age in the nursery (room 12). For more information on our worship services and our church, please see our visitors' guide.
You can watch the 10:30am Sunday service live online on our Facebook page, or here on the website later.
You can find out about special services throughout the year on our home page.
Learn more about Sunday School and Adult Education.
If you'd like to get involved in our music program, check our Music page.
Our most recent service post is listed here. Earlier services are listed below.
The Scripture is Fulfilled — January 23, 2022
Scripture reading: Nehemiah 8:1-3, 5-6, 8-10; Luke 4:14-21
Sermon by Connie Knapp: The Scripture is Fulfilled
Read the worship bulletin.
Download the audio of the sermon or simply play the service below.
If you would like to subscribe to the weekly podcasts, just check these instructions.
Each week, we livestream the 10:30 AM service on Facebook. If you are unable to join us in person on Sundays, please join us on Facebook @FPCYorktown.
Recent services are listed below, with older services available
here
.