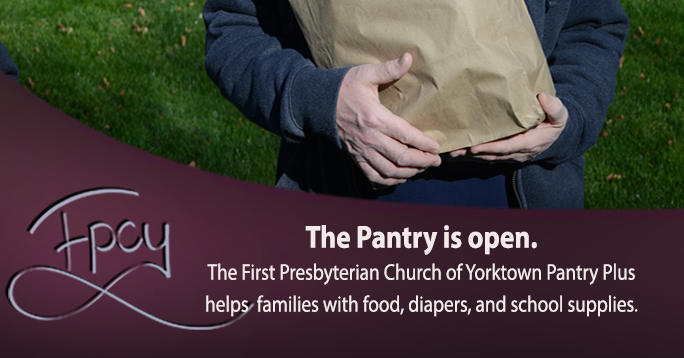 The FPCY Pantry continues to be incredibly busy, which is probably no surprise. In May we served 3,118 individuals, and we see 250+ families each pantry. We are so grateful to our volunteers, who are working longer hours with smiling faces, and to the congregation for your financial and material support. Without the donations of cereal, as an example, we would not be able to offer this critical breakfast item to our clients. We have also gotten great support from the United Way, the Lions Club, and even local businesses like Blue Hill at Stone Barns.
In addition to food, we are continuing to offer diapers once per month and eldercare supplies once per month.
Did you know that we have been delivering food to the elderly at Beaver Ridge for over twelve years? It began as a simple "if we send someone to pick up the bags could you pack some for us" and has turned into a twice monthly ongoing commitment. Huge thanks to Louise Fang, our liaison to Beaver Ridge, and to John Watkins and John Bentley who do the deliveries. For the past year we have added once monthly deliveries to the Wynwood Oaks complex in Shrub Oak as well. With the deliveries, elder care offerings, and senior clients who come to the pantry themselves, we are helping over 300 seniors every month.
Thanks again for all the support you've given us so far. We continue to struggle to find cereal and canned fruit in our supply chain so donations of those items would be very welcome. Keep your eyes out for future items of the month either in the bulletin, on Facebook, or on the church website. We're also working on an Amazon wish list of the most needed Pantry items. For those who like to shop Amazon, you would simply shop our list on smile.amazon.com and items will be sent directly to the church. Amazon will also give 0.5% of ALL eligible purchases you make on Amazon to the church if you set the church ("First Presbyterian Church of Yorktown") as your designated charity in the Amazon Smile program.
Online contributions to the Food Pantry are also most welcome.You can find more information, including our distribution schedule on our Food Pantry Page.