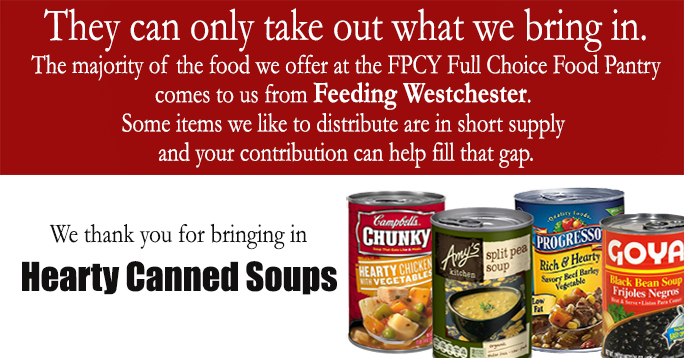 As you know, we now have a Full Choice model at the Food Pantry, where our clients can choose items that best fulfill the needs of their household. We buy food in bulk from Feeding Westchester, but not all the items we'd like to offer are always available.
It is nice to be able to offer a variety of hearty soups and stews that provide good nutrition; vegetarian, non-vegetarian, spicy, creamy, etc.
Noting the item of the month and bringing in some supplies can help the pantry offer as wide a variety of foods as possible. Just place the items in the basket in the Gathering Space.
You can drop off items any time in the labeled bins near the red double doors at the back of the church building. 
If you would like to make a food donation, Please Note:
Non-Perishable FOOD Only
NO Food with expired dates on the packages. 
Donate the quality of food you would serve to your own family. 
No household items please
Online contributions to the Food Pantry are also most welcome.You can find more information, including our distribution schedule on our Food Pantry Page.