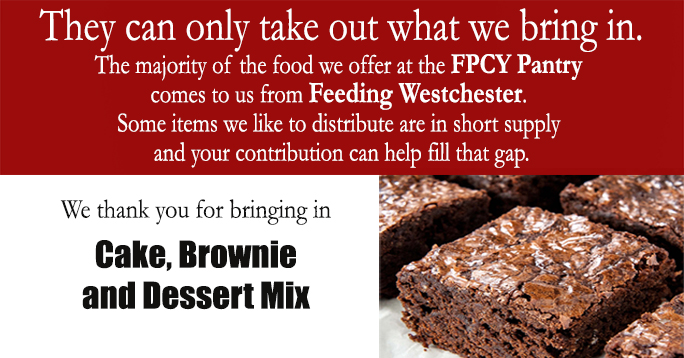 At each pantry, we so much appreciate donated items which are a crucial supplement to the items we are able to get from Feeding Westchester. For the holidays, we'd like to add some sweet cheer to holiday tables.
For the rest of the year, the item of the month is cake/brownie/dessert mix, to help our clients celebrate the season. You can drop off items any time in the labeled bins near the red double doors at the back of the church building, across the playground from the back parking lot. 
As always, please no items past their expiration date.
Online contributions to the Food Pantry are also most welcome.You can find more information, including our distribution schedule on our Food Pantry Page.
If you would like to offer contributions in honor of someone as a gift for the season, you can request a print-at-home card from Lisa in the office.