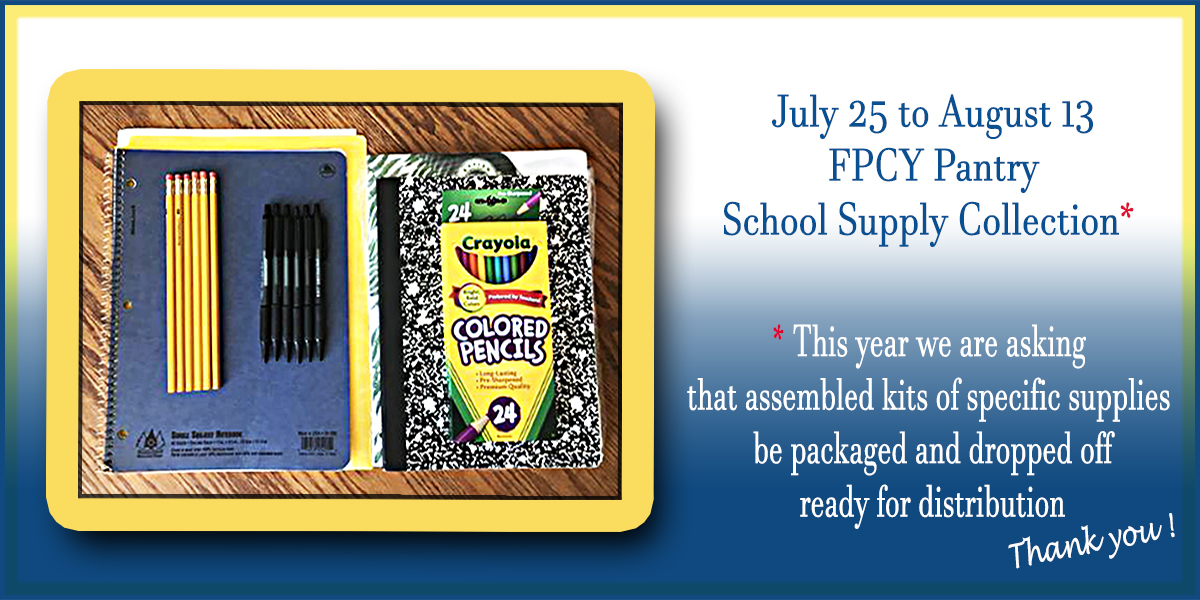 Over the past year we've spent a lot of time talking about the neighborhood and, thanks to that sense of community, we've made a real impact on the lives of our neighbors. So, now seems like the perfect time to double down. Many of you likely have memories growing up of friends or neighbors that almost felt like they were part of the family. We'd like to foster that sense of camaraderie this fall. Since the new millennium, we've asked for, and distributed, donated school supplies for our food pantry families, but we've always done so piece-meal, with volunteers combining various donations together to make one "kit."
This year we'd like to take a more holistic approach to how we sponsor our neighbors. A neighborhood is almost like an extended family and so this August we'd ask you to join us and help send OUR kids to school. Please consider donating assembled bags of supplies between July 25th and August 13th. They can be dropped off in the labeled bin at the back of the CE building by the red doors.
Our academic experts tell us an ideal bag would contain the following:
a spiral notebook,
a marble notebook,
6 pens,
6 pencils,
colored pencils,
2 folders,
loose leaf paper.
Our initial goal is to sponsor 200 of our school aged children, but we could see as many as 300 this August, so please be generous. We hope you'll join us in this endeavor, and together we can work towards a neighborhood that lets everyone have a bright future ahead of them.
July 25 through August 15