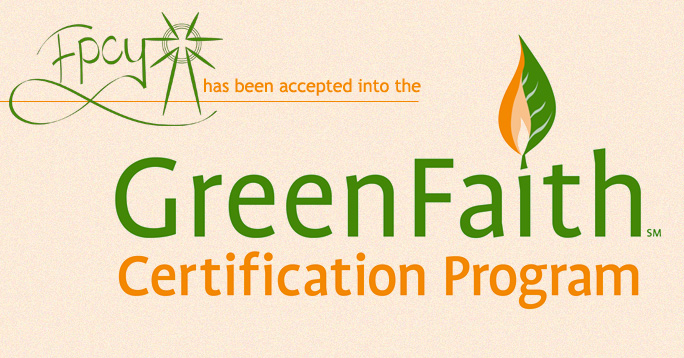 From Stacey Kennealy, the director of the GreenFaith certification program:
It is my great pleasure to welcome your church into the GreenFaith Certification Program.  Your application was outstanding, clearly demonstrating leadership and commitment to environmental stewardship.  We are proud to welcome you into a thriving Certification community, with over 75 congregations from 24 states.
GreenFaith includes organizations from diverse religious traditions who wish to demonstrate and grow their commitment to environmental stewardship. The certification program is a two-year process which includes activity requirements in the areas of Spirit, Stewardship, Justice and Communications.  Some components of the requirements are including ecological themes in some of our worship services, participating in interfaith environmental activities, conducting educational programs on the theme of environmental justice, and implementing good stewardship practices, examples of which might be reducing our energy usage, implementing composting, or conserving water. A more detailed list of the required activities may be found here; note that the program allows great flexibility in how we choose to fulfill the requirements, allowing us to choose activities which best match how we see God asking us to care for our world.
Your GreenFaith team includes Connie Knapp, Jean Post Winget, Tami Seidel, Dave Ramage, Andy Mavian, Robin Corpolongo, and Donna Gresh. Contact any of us if you have questions or would like to help in this process!