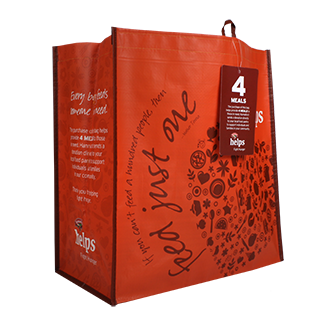 Purchase a $2.50 reusable Fight Hunger Bag at the Hannaford store located at 162 Route 22, Pawling NY in May and the FPCY Food Pantry will receive a $1 donation!
The First Presbyterian Church of Yorktown has been serving the hungry in the greater Yorktown area for 30 years through its food pantry. The services provided by the food pantry have expanded in recent years to include fresh vegetables and bread, and frozen meats in addition to non-perishable foods. Our clients shop in a "choice model" selecting the items their families prefer, in quantities tailored to the family size. Understanding that other household expenses, such as school supplies, sanitary products, and diapers, indirectly contribute to food insecurity, we also offer these services on a periodic basis. Our food pantry operates 2 Saturday mornings per month, and we serve approximately 100 families (covering an average of 390 people) each pantry. We served a total of 2500 family visits encompassing 9500 individuals in 2018, with 100,000 pounds of food valued.
FPCY also has an active Green Team which works to educate our congregation and community on environmental issues, and supports eco-friendly practices within our church building. Reusable bags are an easy way to reduce our consumption of disposable plastic grocery bags.