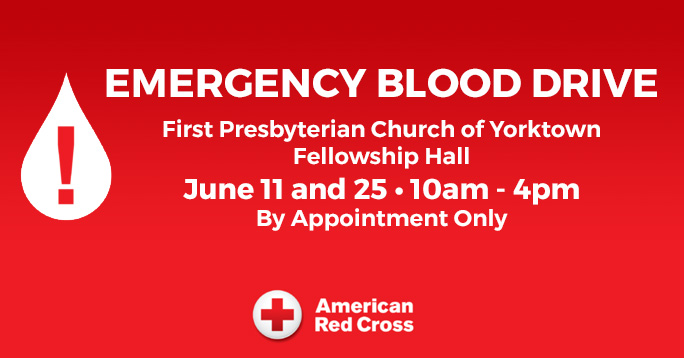 By Appointment Only
The need for blood is constant. With thousands of blood drives cancelled during the COVID-19 pandemic, we opened our Fellowship Hall to the Red Cross in April. Here's a note from their coordinator Susan:
Thank you so much for letting us host the blood drive yesterday. Here are the results:

30 donors registered to donate

4 donors were deferred

29 units (including 3 POWER RED donations) were collected

57 lives potentially impacted

I truly appreciate your generosity in helping during these difficult times. Thank you for being such a great partner in this lifesaving mission! Stay healthy and safe!
The drive with its additional safety protocols was such a success, that we will open our doors again on June 11th and 25th. To sign-up to be a donor, visit RedCrossBlood.org and enter 10598 in the "find a drive" box in the upper left corner. (You must sign up for a specific time slot.) All donors in June will receive a $5 Amazon gift card via email.