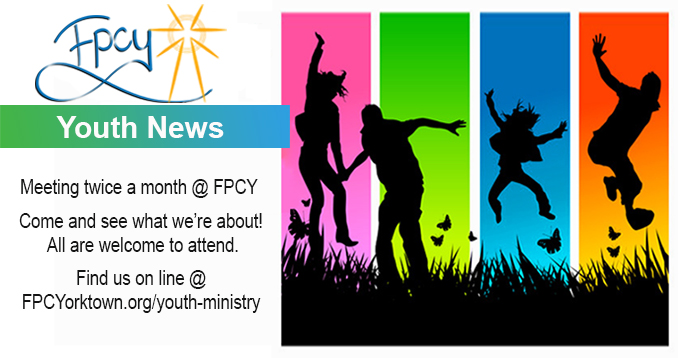 Middle and High School Youth Groups will meet on Sunday, November 10 at our traditional times: 4:30-6 for Middle Schoolers and 6-8 for High Schoolers. Anyone is welcome to join whether you're a youth group regular or you've never tried it before.
On Sunday, November 24, we will celebrate with our friends of all different faith traditions at the annual Yorktown Interfaith Service of Thanks, this year hosted by St. Mary's Episcopal Church in Mohegan Lake. The service starts at 6 pm (time change) and will be followed by an interfaith Youth activity for all who attend. Folks who want to carpool can meet at FPCY at 5:30 pm.
And calling all cookie bakers! Mark your calendars for December 15th. The Youth Groups will be putting on a Cookie Walk – a bake sale of sorts that will feature a variety of cookies. We invite youth and their families to bake family favorites at home and bring them on December 15, and we will also have an opportunity for a big baking blow out at the church in advance of the 15th. Watch for more details on that coming soon. Proceeds from the Cookie Walk will benefit our trip to this summer's Montreat Youth Conference.
Wait, did someone say something about summer? Yes, it's not too early to start thinking about summer plans. Watch for details coming soon about this year's Youth Conference in Montreat, NC!