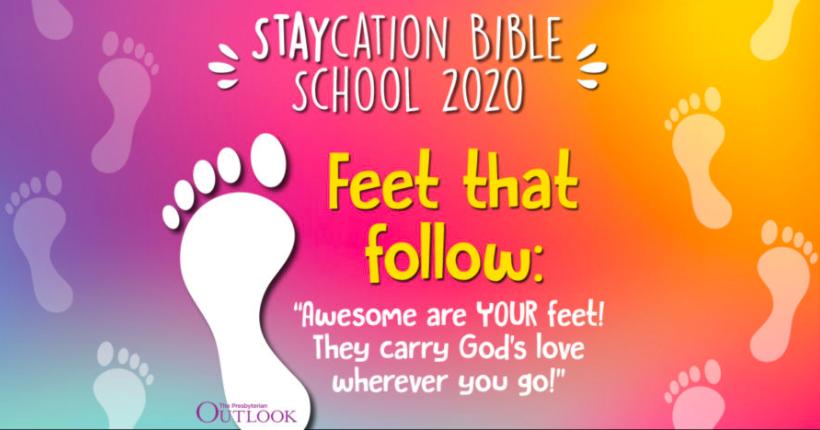 Hey Families! In light of so many of our traditional Summer activities being canceled this year, Presbyterian Outlook has created a "Staycation Bible School" program. The theme is Feet that Follow: Awesome are YOUR feet! They carry God's love wherever you go! It's kind of like Vacation Bible School in the comfort of your own home –
or take it with you if you are hitting the road this summer.
FPCY is providing this program to anyone in our church family who would like to give it a try with their families. It's geared toward families with elementary school age kids but could be adapted to get the whole family involved.
There are other ways to adapt it as well – if you want to declare one week in your home "SBS" week, awesome!
There are five days' worth of activities in this program. If instead you want to say Saturday is SBS
day and break it up over 5 weeks, you can absolutely do that too. Feel free to use it as the Spirit moves you. Here is an introduction for parents and caregivers to give you a sense of what's involved:
For access to the SBS program, contact Steph Hare at stephanie@fpcyorktown.org.
We know a lot of folks are super sad about not being able to do our traditional VBS with our friends from our neighboring congregations this summer. That is a serious bummer. We give thanks for the fun and the amazing relationships that we get to have at our community VBS and we look forward to being with our friends when our community is in good health again.
This summer is definitely like no other that most of us have experienced, but we hope that families will use this opportunity to set aside some time for family faith formation and have some fun while doing it. If you have any questions, please reach out to Steph or Tami. And if you decide to try out the "Feet that Follow", we want to know about it! Let us know how your family carries God's love this summer!
~Steph Hare