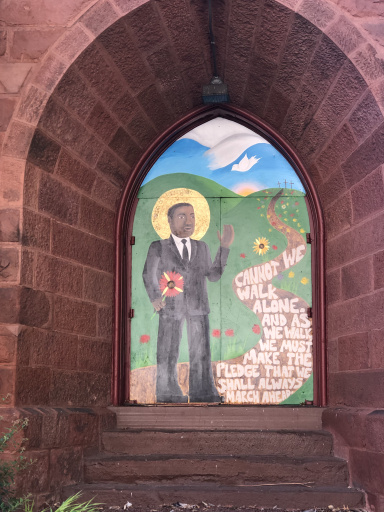 Ailih writes about her YAV (dis)orientation at Stoney Point:
Jessica Vazquez Torres kept us grounded in the training through the concept of a COURAGEOUS SPACE. Building on the idea of a 'safe space,' a courageous space pushes participants further to trust one another and be comfortable being uncomfortable. The courageous space tenet 'embrace ambiguity' captures this spirit and represents what I am working on internally this year. I've always had a hard time with ambiguity. I want answers and a clear path forward, not a plethora of choices and possibilities. Needless to say, post-grad life is stressful for me. Like life, the work of anti-racism does not come with any hard-and-fast answers about how to fix our broken world or even how to fix the brokenness of racism within ourselves. I often find myself taking it all in and losing hope that we could ever find a clear path to reach the peace so many dream of. But then, in the midst of heavy conversation about systemic racism, Jessica asserted: "If I have all the answers, I don't need to pray. If I have all the answers, I don't need God.
Read Ailih's post.
On August 25 we commissioned Ailih Weeldreyer and Langley Hoyt as Young Adult Volunteers, who will both be serving in Washington, D.C.
The Young Adult Volunteer (YAV) program is an ecumenical, faith-based year of service for young people, ages 19-30, in sites around the world and in the United States. YAVs accompany local agencies working to address root causes of poverty and reconciliation while exploring the meaning and motivation of their faith in intentional community with peers and mentors. YAVs serve during the academic year, August to July.
You can follow Ailih's blog and Langley's blog. (The "follow" button is at the bottom right)