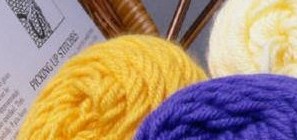 The Prayer Shawl Group will meet next on June 3 at 9:30 am which will be followed by the last women's study at 10:30 am. Summer dates will be: June 17, July 1, July 15, July 29, August 12, August 26 at 10:30 am.  We will return to the 9:30 am time on Sept 2 – the first Wednesday in September. Anyone who would like to join us in knitting is most welcome. In addition to the regular knitters who come on Wednesdays, we have at least seven off site knitters.  Any questions please call Marianna Sherman at 914-737-8294 or Fran Schiel at 914-245-5396.
The Knit Togethers will meet on June 8 & 22 and July 13 & 27, 2015. We are planning to have a busy summer knitting lap blankets, baby blankets and sweaters, children's hats, mittens and scarves for December giving to help others in the community.  All who knit or crochet are welcome to join us. Our meetings are held on the 2nd and 4th Mondays, 10:00am to 11:30am, in the Lounge/room 15. For information: Norean Radke (962-4370) or Lois Ostling (962-2809).
Donations of yarn are always welcome! Just label it with Marianna Sherman's name and drop it off in the office. Marianna will make sure it's made available to both groups.