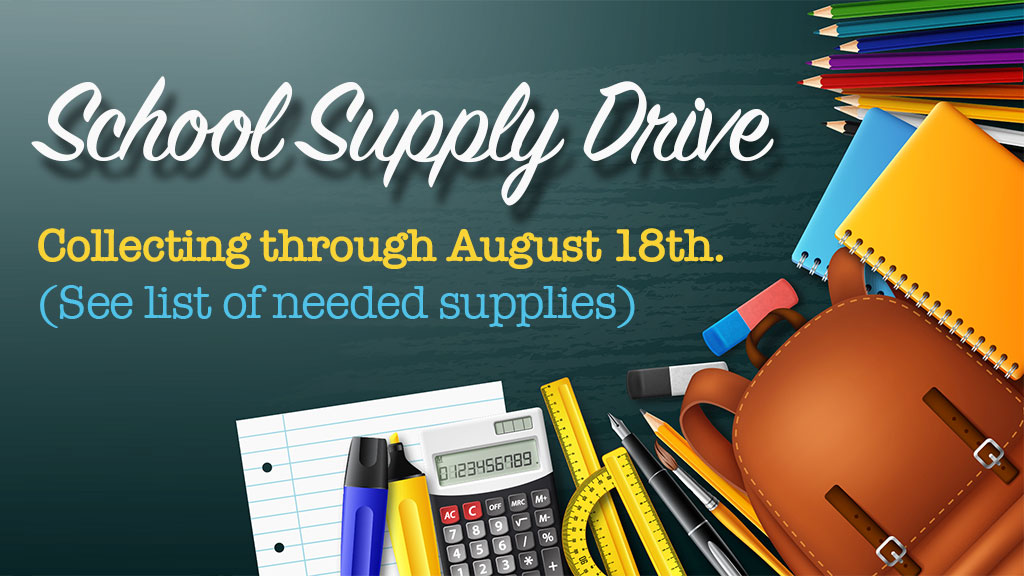 Annual School Supplies Drive Time
This year, we would like to better meet the needs of our middle school and high school clients by tailoring our school supply offerings to more closely deliver what teachers are requiring while still providing core supplies for elementary school students. We will also be working with local school districts to supply advanced calculators for students in upper-level math and science classes whose families cannot absorb that expense. We need your help in a number of areas. If you would like to purchase school supplies for this drive, we can use:
no backpacks please
safety scissors
crayons  (16 or 24 pack)
washable markers (8, 10 or 12 pack)
colored pencils (8, 10, 12 pack)
#2 sharpened pencils
Large glue sticks
Marble Notebooks – wide ruled
wide ruled loose leaf
college ruled loose leaf
2 inch binders
1.5 inch binders
sharpie markers – black
earbuds or headphones
TI – 30XIIS Scientific calculators (no substitutes – schools have specific requirements)
If you prefer not to shop, you can choose to make a monetary donation to supplement the Food Pantry funding for school supplies and we would be happy to shop for you.  If you would like to volunteer either with shopping or distribution, please let Debbie Bernardini know. We would really appreciate your help! We need to receive all donations by August 18.
Please place donations in the box in the entryway marked school supplies starting July 16.