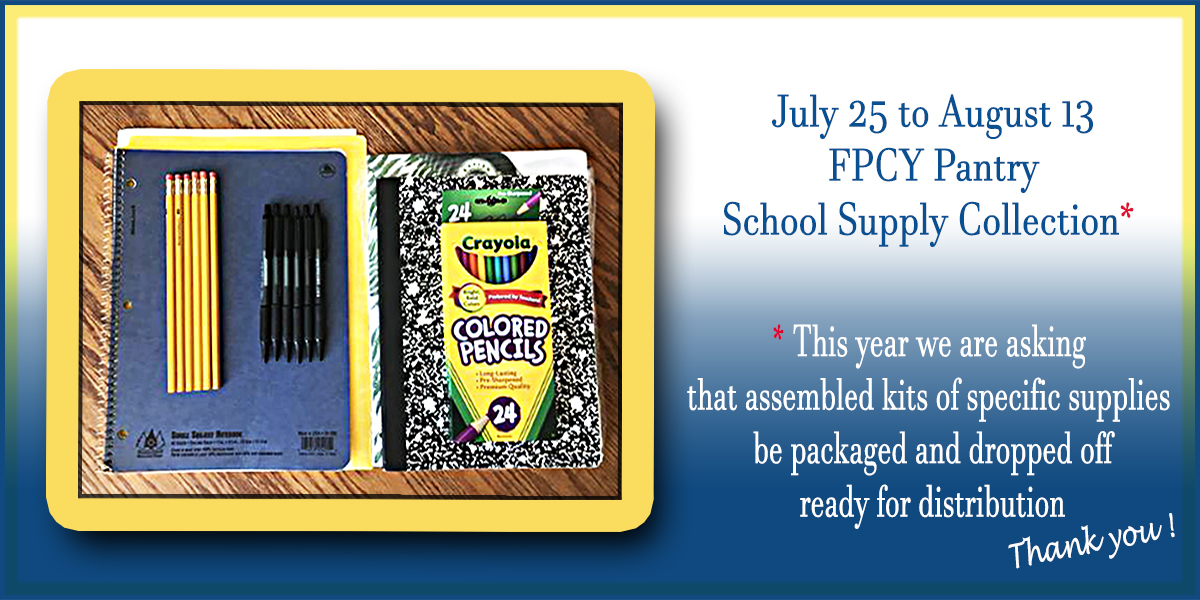 Donations of "school kits" for our food pantry kids have not been what we had hoped. We know that summertime is busy time, especially as many of us are "making up for lost time." But we would really appreciate it if you could put on your to-do list a trip to collect some sets of school supplies for our clients. (Walmart for one makes it very easy, with most of what's requested lined right up along the center back aisle!) You can decide how many kids you'd like to sponsor, and then just grab everything you need, and package it into individual bags.  Donations are accepted through August 13 (just over a week away!).
Our academic experts tell us an ideal bag would contain the following:
a spiral notebook,
a marble notebook,
6 pens,
6 pencils,
colored pencils,
2 folders,
loose leaf paper.
Our initial goal is to sponsor 200 of our school aged children, but we could see as many as 300 this August, so please be generous. We hope you'll join us in this endeavor, and together we can work towards a neighborhood that lets everyone have a bright future ahead of them. Drop off any time in the labeled bins at the back of the church building under the "Donations" sign.
(We are hoping that this can be a feel-good "hands-on" effort, but if you are unable to donate the kits, and still want to help, donations to Food Pantry Plus can help support this effort.)