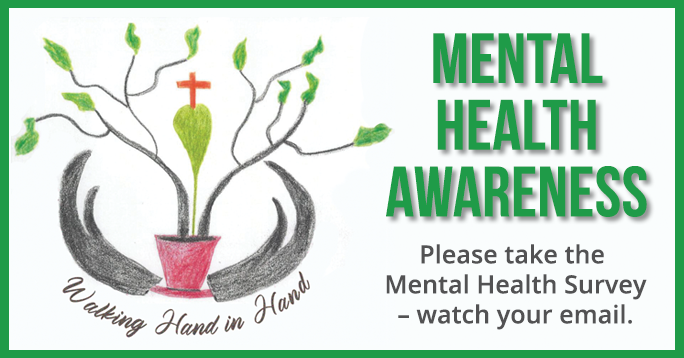 In addition to problems associated with depression, anxiety, fear, self-harm, and chemical abuse, in the United States more than 40 million people are showing symptoms of compulsive behavior related to technology. This problem is exacerbated by the Pandemic and its impact on people who are spending much more time behind computer screens.
If you have not already done so, please complete the mental health survey. This will allow us to better assess the impact on our community, which will help us arrange training programs to provide prayerful encouragement and companionship to those who are suffering.
We are all companions to each other in solidarity as Christians Companioning those who are suffering and those of us who support those struggling. This allows us new opportunities to offer kindness, hope, and resources for understanding and healing.
IF YOU HAVEN'T ALREADY, PLEASE TAKE THE MENTAL HEALTH SURVEY (deadline is March 15th)
There have been over 100 congregation members who have responded to the MH survey already. To those who have responded, thank you for your time and thoughtful responses. To those who haven't, please take a few minutes, there are only 12 questions. You should have received the survey in your email on February 22, and a reminder on March 1. Our survey administrator tells us that the average responder is taking only 8 minutes to complete the survey. Your input is vital to develop the direction of our mental health ministry.