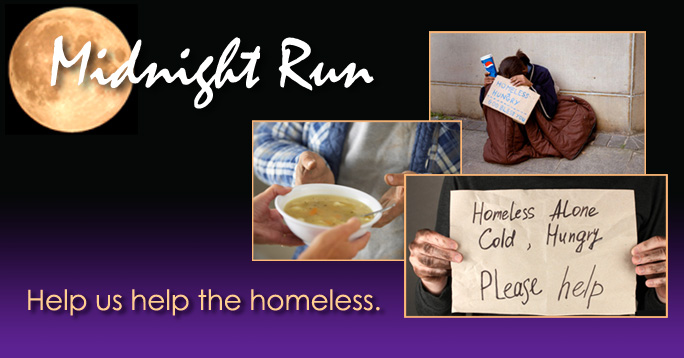 One of the Mission Commission projects for many years has been the Midnight Run in New York City. This is an organization that was started by people who once lived on the streets to address the needs of those currently living on the streets for whatever reason; often because shelters are dangerous and housing expensive.
Midnight Run participants include churches, colleges, and other civic or business groups who carry out weekly Runs. The Midnight Run organization provides some large vans and they communicate with those living on the streets to provide the list of stops made by each Run.
We are told by Jesus to reach out to those on the fringes, to feed and clothe them and to let them know they are cared for; that they are also God's beloved — a great reason to get involved in the Midnight Run project. This also helps us grow in our faith and humanity. The people we serve have physical needs for clothing, food, etc., but often a greater need to be treated as fellow human beings. We strive to share God's love with whomever needs it and we learn from those who can teach us about life from their point of view.
There are many tasks that need to be done. So that you can think about which task would fit into your schedule, here are some ideas of what is available to do:
driving the vans
going on the actual Run
buying underwear, socks, toiletries, etc.
putting together lunches
sorting clothing donations for the Run
helping to make soup before the Run
kitchen clean-up the day after the Run
If you want someone to partner with to make lunches or to cook soup to make it more fun or to get to know your fellow members better, just let us know. We hope that you will consider helping to support this valuable ministry that your Mission team provides for you. THANKS!
For now: start saving clean used warm jackets, sweaters, jeans, sweat pants, clean shoes— sneakers, long sleeved knit tops, t-shirts (no dress pants or dress shirts, please). We can also use a few women's coats, pants and sweaters. Look for sales on new socks, men's underwear sizes medium, large and x-large, and long underwear in the same sizes. We will need lots of these.
Pray and think about which task, listed above, that you can help with and let Heidi; hkharing@optonline.net or Nance Thompson; bnswahoo@gmail.com know. There will be sign up sheets in the Gathering Space and on-line through Sign-up Genius towards the end of September and early October.
Thanks for any role you can play in helping your congregation help others!