The Field Hall Foundation has awarded a $10,000 grant to our Food Pantry to expand our senior program. The pantry will use the grant to offer food and toiletries such as low-sugar/low-salt foods, protein shakes, and hygiene products (which cannot be purchased with food stamps) to their senior population. The food pantry will also double the number of seniors in its home delivery program, which delivers bags of groceries, fresh vegetables, bread and frozen meat twice a month.
This grant is part of the Field Hall Foundation's inaugural grant cycle, in which $274,000 was awarded to eight grantees. Information on all recipients in the first cycle, as well as grant guidelines and important dates can be found on the Foundation's website.
About Our Food Pantry
The First Presbyterian Church of Yorktown has served the hungry in the greater Yorktown area for 30 years through its food pantry. The food pantry is run by all volunteers and provides food twice a month to 100 families, almost half of which include seniors. The food pantry recently transitioned to a Full Choice pantry, which allows clients to choose food items from shelves, as they would in a grocery store, empowering them to make choices of food items that they prefer, as well as choices that balance what is already in the cupboards at home.
About Field Hall Foundation
In 2018, Fieldhome sold its nursing home, assisted living residence, adult day care and child care programs. The proceeds from the sale were placed in the existing Foundation to begin its grant giving program. The Foundation's mission is to improve the lives of older adults and their caregivers in Westchester, Putnam and Dutchess Counties.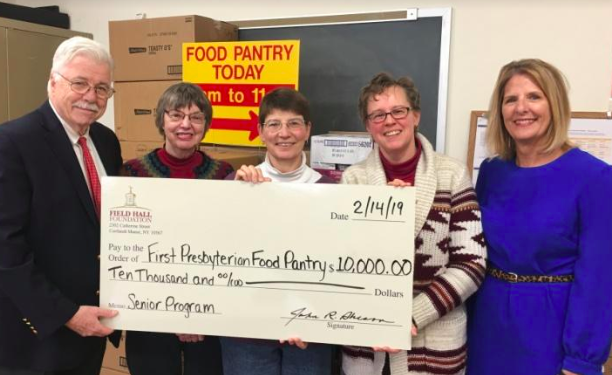 John R. Ahearn, Field Hall Foundation's CEO, Marsha Henderson, FHF Board Member, Katharine Frase, FPCY Food Pantry Director, Tami Seidel, FPCY co-Pastor, Donna Haskel, FHF Grant Manager