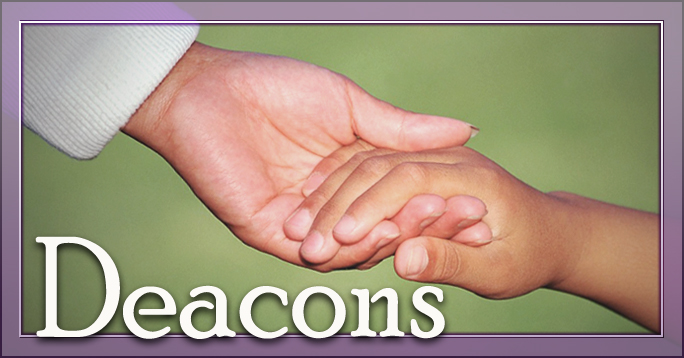 I'd like to begin by thanking our outgoing deacons for their service: Judy Chessa, Terri Froehlich, Sue Nelson and Bill Winsted. Judy served 3 years as Moderator. We are sorry to see them go, but glad to add Carol Cornish, Wanda Diaz, Debra Farrell and Ryan O'Hare. Ethan Brown and Daniel Hager are our incoming youth deacons.
Our new Moderator is Andy Torres, and our Vice Moderator is Patrick Burns.
Some of you may be wondering what the purpose of a deacon is. The Book of Order calls ordained deacons to a ministry of "compassion, witness, and service, sharing in the redeeming love of Jesus Christ for the poor, the hungry, the sick, the lost, the friendless, the oppressed, those burdened by unjust policies or structures, or anyone in distress" (G-2.0201). Quite a task!
At FPC Yorktown, our deacons respond to this call in several ways:
Contact with the Homebound – Our visitation team, which includes past and current deacons, visits with church members at their homes, at the hospital, or in nursing homes.
Transportation – The deacons provide for or arrange transportation to congregants who may need a ride to church or church-sponsored gatherings such as lunch bunch. We may also be able to accommodate requests for a ride to medical appointments or physical therapy.
Loaves & Fishes – We arrange for meals to be brought to members of the congregation who are recovering from surgery or illness, or those struggling with other serious personal problems.
Card Ministry – We reach out to various members of our congregation to let them know the church is thinking about them. Recipients include college students, members recovering from surgery or illness, and those who have a special birthday or anniversary coming up.
Bereavement – In this capacity, our deacons host receptions for the family after a memorial service for their loved one.
Blood Drive – Working with the Red Cross, the deacons have hosted a blood drive in August the last few years which have been highly successful, and we plan to continue to make this an annual event at FPCY.
Food Pantry – The Deacons are an integral part of the success of the Food Pantry. In addition to the distribution of food, we have also been active in other areas related to the Food Pantry, such as school supplies, "hat and mitten tree", the diaper ministry and the Toys for Tots program.
If you have not yet helped us with any of these endeavors, but would like to, we invite you to contact us, or sign-up using MyFPCY (Groups->Find Groups->Service). Many hands make light work, and speaking from experience, I can honestly tell you that serving is a privilege, not a burden. And if you have helped us and would be willing to continue to do so in the coming year, please let us know that too!
~Patrick J. Burns III, Vice-Moderator of Deacons
FOOD PANTRY MATCHING GRANT
With the start of the new year, the Food Pantry grant matching program begins anew. Throughout the year, every dollar is matched, up to at least $10,000. Please consider supporting our Food Pantry, an outreach that provides food to over 200 clients twice a month. Gifts can be given via mail, in the collection plate or online. Make sure to mark gifts "FPCY Food Pantry" when submitting a check or cash.