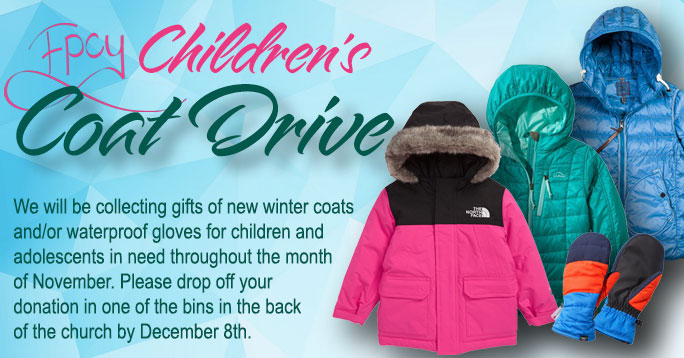 As you may imagine, the need is great this year, as many families have lost income, and the pandemic continues. But of course, children keep growing, and our winters are always cold.
FPCY will once again be giving the gift of warmth for the holidays by sponsoring a coat drive for children and adolescents in need.  We will be collecting gifts of new winter coats (children's sizes XS, S, M, L, XL or adult size S) and/or hats and waterproof gloves throughout the month of November to be distributed between 9:00-11:00 AM on December 11th.
If you can help with a donation, please drop off your coat in the bin in the back of the church near the Food Pantry bins by the old Preschool doors or the bin near the Gathering Space. Please make your donation before December 8th, and thank you for your generosity.
Alternatively, shop online and ship your donation directly to the church to arrive by Dec. 8.
Please contact Pam Darreff or Sue Caruso with any questions or if you can help by volunteering with the distribution on December 11th.