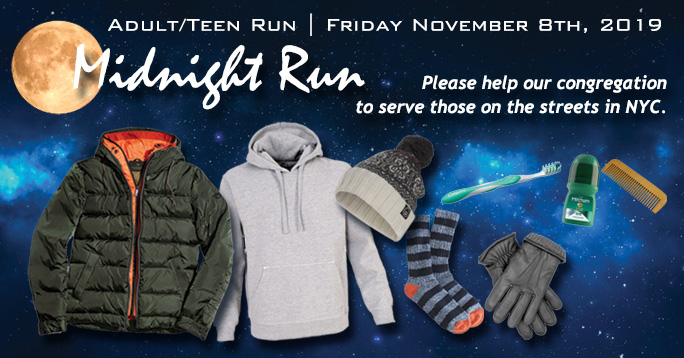 ADULT/TEEN MIDNIGHT RUN; FRIDAY, NOV. 8: IT'S COMING SOON.
Please help our congregation to serve those on the streets in NYC.
We need a driver for the van.
At least 6-8 people to go on the Run, more can be accommodated if we have a second driver.
We need small shampoos and combs for the toiletry kits, which our Lunch Bunch group will assemble.
NEW: We need new men's underwear in LG sizes, and at least 40 pairs of socks—black cotton athletic socks or warm thick socks.
Used men's clothing needed: Jeans and sweatpants in LG sizes; Sweaters, coats and hoodies in sizes LG and XL, T-shirts and long sleeve knit tops (please no button down dress shirts or dress pants), gloves, knit hats, and blankets or sleeping bags.
5-6 volunteers to make 10 lunches a piece: a meat and cheese sandwich, hard boiled egg or soft protein, sweet and a salty snack, soft fruit but please no apples (too hard) or bananas (squish easily).
Volunteers to help sort clothing the week of the Run.
Two volunteers to help in the kitchen the night of the Run.
Two or 3 volunteers to help clean up the next day after the Run.
Please look for the sign up sheets in the Gathering Space or contact Heidi; hkharing@optonline.net or
Nance; bsnwahoo@gmail.com. Thanks for helping to make this mission a success!