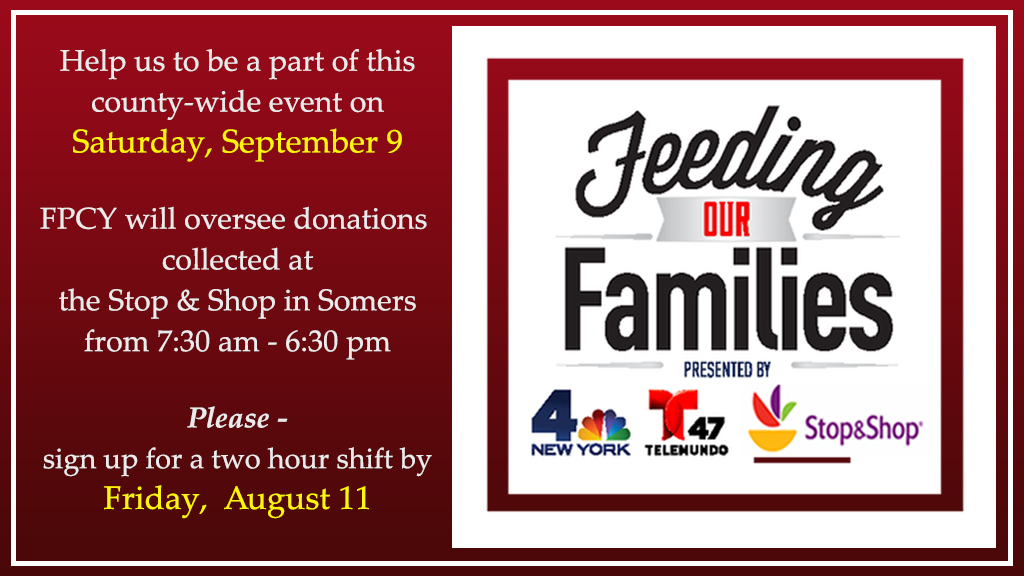 Feeding Westchester in partnership with NBC, Telemundo and Stop & Shop is hosting the Feed Our Families Food Drive. On September 9, each of the 14 Westchester County Stop & Shop stores will hold a day long collection of food donations. FPCY has been given the opportunity to join that partnership by receiving all of the donations from the Somers Stop & Shop location if we can provide enough volunteers to staff the event.
The Hunger Action Commission and the Food Pantry team need your support as we try to staff both a pantry distribution and this food drive event. We will need 12 volunteers (in addition to the 20 people needed to run a choice pantry) to sign up for 2 hour shifts between 7:30 AM and 6:30 PM at the Somers Stop & Shop. We have until Friday, Aug 11 to decide if we can commit to this challenge.
Won't you consider supporting our efforts to address hunger in our neighborhood by donating your time? Children 14+ may participate with an adult 18 or older. Please show your support by signing up for one of the options below:
Stop & Shop Food Drive in Somers 
September 9th Pantry Distribution at FPCY
If you have any questions or need help with signing up, please contact Debbie Bernardini.