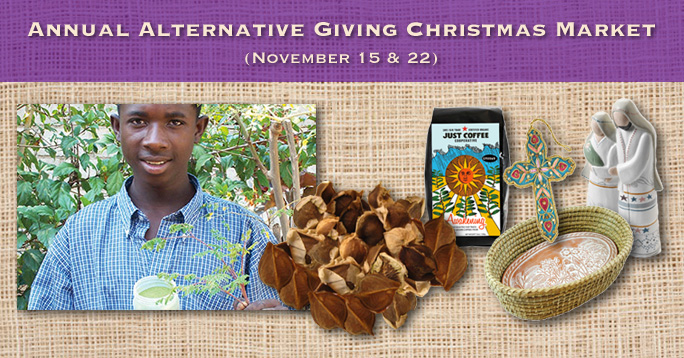 The Christmas market is sponsored by the Church School and by the Mission Commission to promote the ideas of less commercial Christmas gifts and honoring Jesus' birthday by helping others with the gifts we purchase. Through this market, our Church School hopes to remind the kids whose birthday Christmas truly is ­­Jesus'­­ and while presents are nice, that is not the main purpose of Christmas. We also hope that through this market they learn about the needs of others and fair treatment through the purchase of these Fair Trade gifts (read more about fair trade below).
We will continue to sell hand made items from various developing countries including India, Indonesia, Philippines, Africa, Central and South American, etc. The organizations that back the small coops that produce our goods are SERRV International and 10,000 Villages, as well as Dean's Beans­­–our popular guaranteed Fair Trade coffee and organic hot cocoa provider.
This year we will NOT sell Heifer shares; sorry no "Water Buffalo Song" this year. (Maybe we'll get lucky and find a funny Veggie Tales song about tree seeds and trees.) Instead, we will be selling shares in $30, 5lb bags of fast­-growing Moringa Tree seeds. You can sponsor a whole bag or part of a bag, if that is better for your budget.
Moringa seeds are fast growing and provide nutrition, cleaner air, water-­purification, and habitats for life-essential wildlife. The seeds from the trees can be powdered and produce a high-­protein, nutrient rich food. You will be able to see some pictures and read more information at our market.
We switched our alternative gift opportunity to continue to support the people in Dominican Republic, where our Mission Trip was this past summer. The team agreed that of all the needs they witnessed, tree­-planting would help with the huge deforestation problem and its serious consequences; the environmental, health and other damage done by over-­foresting the trees for cooking wood, etc.
These seeds will be purchased through the Presbyterian Gift Giving Catalog and the program that is partially run by Mark Hare, our Stephanie Hare's cousin, who works in Haiti for our denomination. So once again, our market can provide a bang for your buck, 2-­for-­1; buy a gift, help the world and give Jesus a great birthday gift to boot (okay, that's 3-­for-­1, even better!).
Hope to see you shopping at our market!
WHAT IS FAIR TRADE?
Fair trade is social movement whose goals are:
to help improve conditions for marginalized workers in developing countries, to be sure they are paid FAIR wages. Often these workers are cheated, paid little for their goods, which are then sold at marked up prices for great profit only to the seller.
to help workers and artisans in developing countries to achieve safer trading conditions, reach better markets for their goods.
to promote good environmental practices and sustainable development. Many of these communities have suffered environmental damage from practices such as deforestation for firewood, etc.
Fair trade organizations that sell to developed countries, such as the ones that we use, work with communities to help them develop their businesses to be more eco-­friendly and to make handicrafts that will produce more income for them. Products are sold to both developed nations and in their own countries, so they, too, benefit from the improved quality of goods. Often the standards of living improve to the point that there is money to send the kids to school, buy more food and create safer housing. The training provided to farm with safer techniques often helps to improve the yield and create a better crop.
Unfortunately not all Fair Trade is equal, especially when it comes to items such as coffee and chocolate. Dean's Beans, our coffee provider, makes certain that they use only small farms where they can monitor the farming techniques, worker treatment, etc. This is not always true on larger corporate estates such as for Starbucks and Green Mountain, which also sell some fair trade coffees. This is why we try to work only with organizations that work directly with small coops and that help their workers to maintain better work conditions and better lives.
As Christians, we support Fair Trade because it works to ensure that all people, especially the poor and marginalized are treated as God's children with equal access to the basic necessities of life. Get nice goods while helping others so they can help themselves–a true bargain in a moral sense.