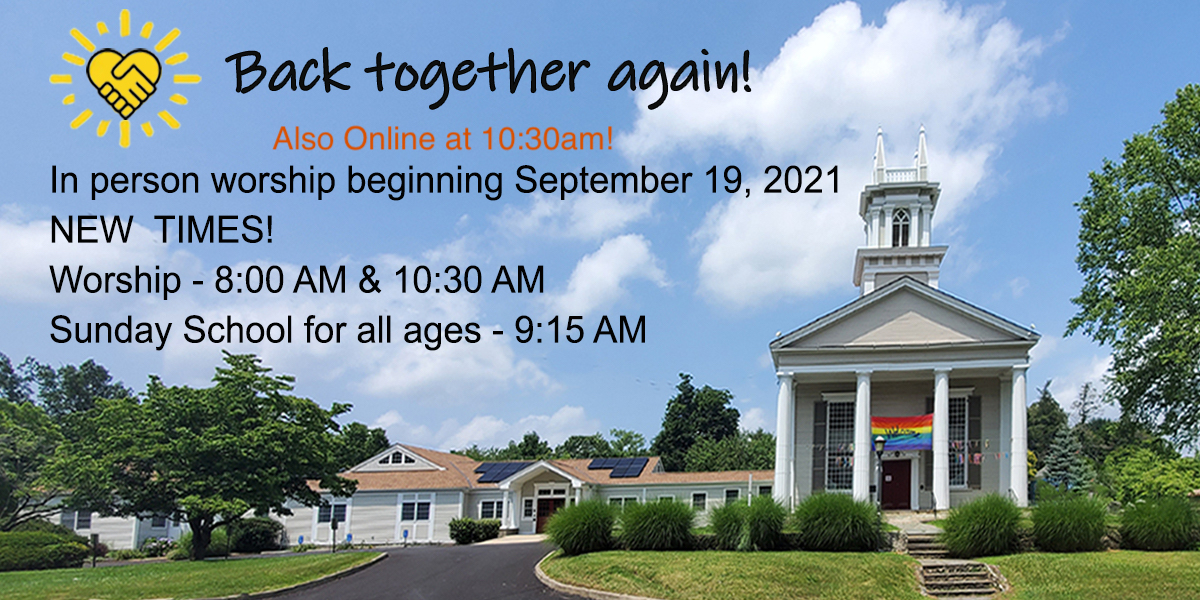 On September 19 we will begin having two services, at 8am and 10:30am, in-person AND online at 10:30am on our Facebook page.
Sunday School and Adult Education will begin on September 26.
Note that on September 12 we will have a single in-person service at 10:30am (also online), followed by a BYO picnic in back of the church.
Below are our current Covid protocols with the caveat that they may need to change. We thank you for the many ways you have stayed connected with your FPCY family in this most challenging season. We look forward to seeing you in person as soon as you are comfortable.
Prescreening—Please DO NOT come to the church if:

you have been in close contact with someone confirmed or suspected of having Covid-19.
you have any of the following symptoms: cold or cough, fever, sore throat, nausea or diarrhea, tiredness, difficulty breathing, etc. Please join us via livestream or hybrid options until it is safe to return.

Mask Policy—Until further notice, masks are REQUIRED for everyone over age 2 inside the building at all times regardless of vaccination status. Masks should cover both your nose and mouth. While we hope all attendees are vaccinated, some of our youngest members are not yet eligible, and we want to provide as safe an environment as possible for all folks in our faith family.
 Worship

Everyone must sign in with name and contact information upon entering the Sanctuary.
Masks must be worn during worship services.
The balcony will be available for unvaccinated members & visitors.