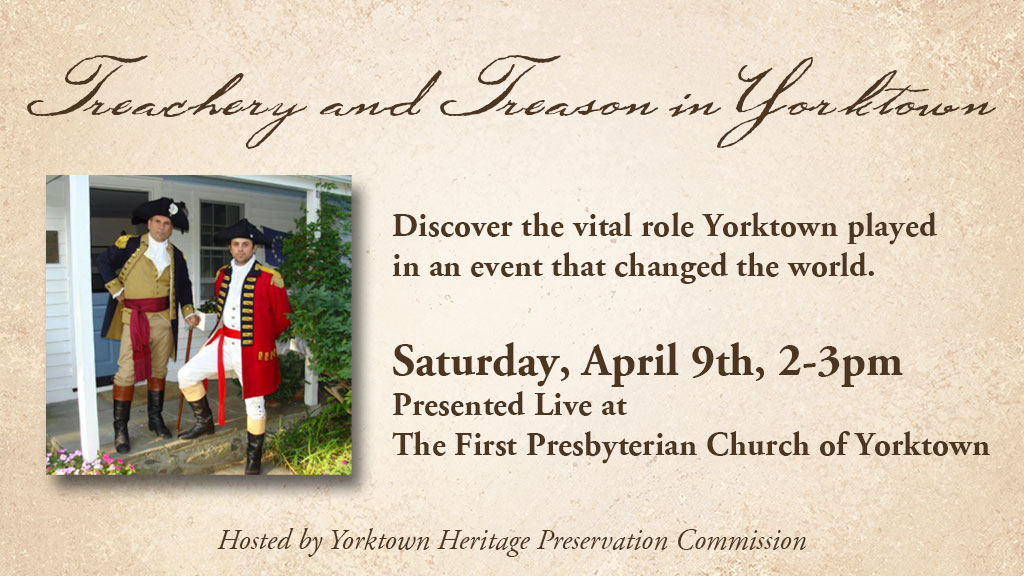 Rendezvous with Treason is a dramatic portrayal of the fateful encounter between two of the American Revolution's most intriguing characters. The production depicts the 1780 meeting in Haverstraw (Rockland County) of American General Benedict Arnold and British Major John André to discuss the treasonous plot to deliver West Point to the British.
Note: Masks are required in our historic sanctuary
Hosted by the Yorktown Heritage Preservation Commission and Yorktown 250, partners for the performance include Town of Yorktown, Yorktown Small Business Association, Yorktown Historical Society and the Yorktown Arts + Culture Committee. Admission is free. Donations are welcomed.
Rendezvous with Treason was created by teachers Gary Petagine (Carmel High School) and Sean Grady (Ardsley Middle School). The production allows Arnold and André an opportunity to tell their respective sides of the story and the motivation behind a plot that could have crushed the American cause for independence and effectively ended the American Revolution.
Arnold and André share their triumphs and setbacks in their respective armies. Arnold was a Revolutionary War hero for the American cause and a trusted confidant of George Washington. He became disgruntled after he repeatedly was passed over for promotions by Congress. André was, according to contemporary accounts, a kind and charming man, a great favorite in colonial society and a reluctant spy.
Grady as André and Petagine as Arnold are the actors, writers and living historians who bring these characters to life. Dressed in authentic period attire throughout the performance, they will be available following the play for questions and discussion.