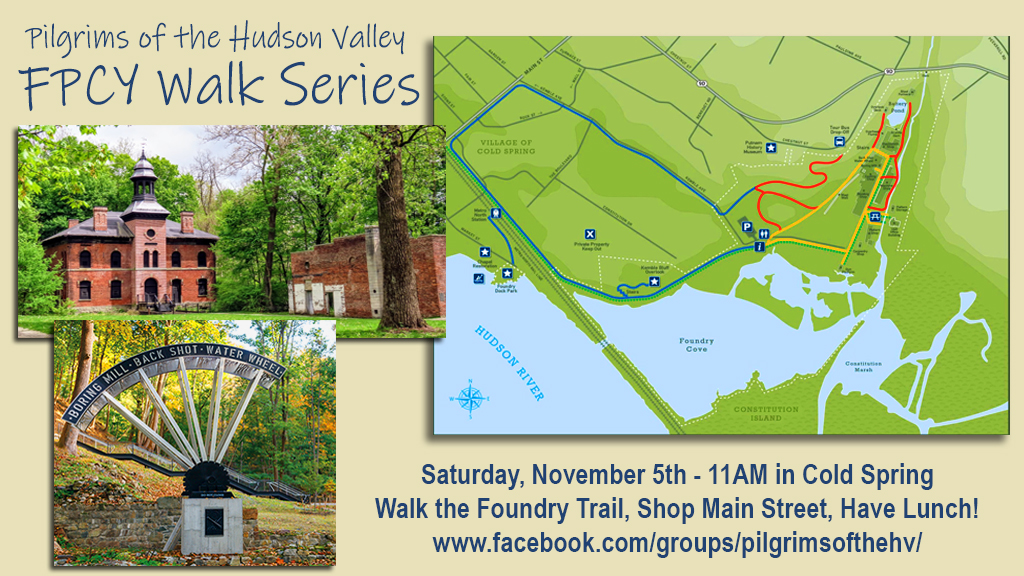 Our next walk is November 5th at 11AM in Cold Spring. Walk the Foundry Trail, Shop Main Street, Have Lunch!
On our Pilgrimage this week, we'll be remembering our friend Ken Sherman Sr., who we know would have loved to join us, along with Marianna. Like our previous walks in Beacon and Peekskill, this is a trip that is accessible to all—you don't need to be a hiker, and no poles are needed!
The path connecting the historic sites at the Foundry itself is wheelchair accessible, and there are level trails/streets connecting to the village—including elevators to cross the railroad tracks at the Cold Spring station, avoiding the Main Street underpass. (There is some platform construction work ongoing at the station, but both elevators are currently in service.)
For more information on the Foundry Preserve, including the popular audio tour (consider bringing earbuds or headphones!) and an interactive map, visit their website.
Find a guide to shops and restaurants in the village of Cold Spring.
We will meet at the Foundry parking area at the end of Kemble Street. There is also ample free parking on weekends at the Metro North station or on village streets, if you plan to make a longer day of it. We look forward to seeing everyone on Saturday, Nov. 5th at 11:00!