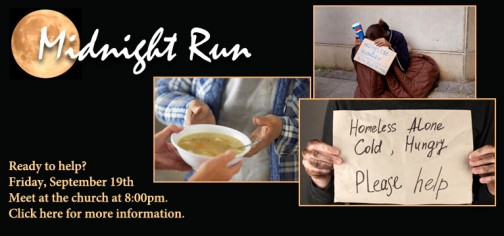 Our next Midnight Run is coming on September 19! If you would like to be part of this team, there is room in the van and need for four additional folks. (Must be at least 14 years of age) This is an amazing mission opportunity! Visit the Midnight Run website to learn more about the details of this experience, or feel free to contact Jean Post-Winget, our Midnight Run coordinator.
We will need donations of clothing – tube socks (white and dark), jockey shorts (sizes 32-42), t-shirts (medium thru XL).
Making the September 19th Run happen will very much be a community effort. If you would be willing to participate as a travel team member, a clothing sorter and sizer, a kitchen support person or to prepare a dozen or so bagged lunches to be carried on the Run, Jean would like to hear from you!!!! (If you need Jean's contact info, please contact the office – office@fpcyorktown.org or 914-245-2186).