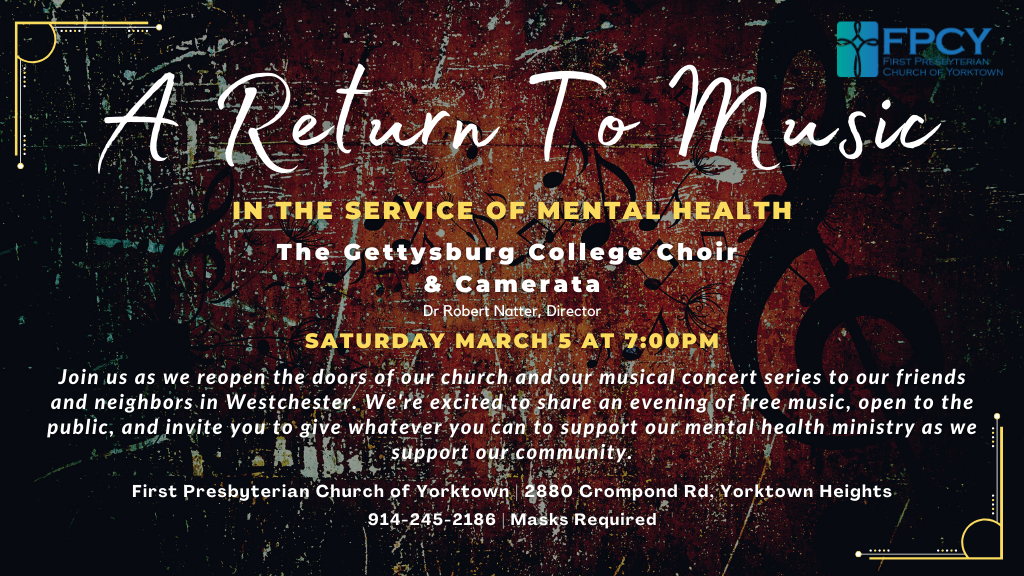 The Gettysburg College Choir and Camerata will perform a free concert on Saturday, March 5 at 7:00 pm. The choir will also sing at the worship service the following morning, Sunday, March 6, at 10:30am. Masks required.
A free will offering will be received to benefit FPCY's Mental Health Ministry
This is the first College Choir Tour since the pandemic began. Our concert will include a cappella sacred and secular music by composers from the 20th-21st centuries, including Colin Britt, Antonio Estévez, Gerald Finzi, Cristian Grases, Robert Harris, Don MacDonald, Darmon Meader, Andrea Ramsey, Hasan Uçarsu, and more. The Camerata, an eight-member chamber group from within the College Choir, will perform a group of lighter pieces. We hope to convey a sense of optimism and joy as we emerge from the pandemic.  
The Gettysburg College Choir is the premier choral ensemble of the Sunderman Conservatory of Music at Gettysburg College in Pennsylvania. The choir is acclaimed for performances of choral literature from the Renaissance era to contemporary and diverse music. The College Choir includes 33 undergraduate singers that are studying a wide array of majors, from music, to biology, to political science. 
Dr. Robert Natter is Associate Professor of Music and Director of Choral Activities at Gettysburg College, where he has taught since 1998. He conducts the Gettysburg College Choir, Concert Choir, Audeamus (upper-voice choir), and Camerata (vocal chamber music), and teaches conducting.
The Sunderman Conservatory of Music offers three degrees: a Bachelor of Music in Performance, a Bachelor of Music Education (for aspiring music teachers), and a Bachelor of Arts in Music. Honoring our role as a dynamic conservatory within one of the nation's leading liberal arts colleges, we foster rigorous study, creativity, intellectual curiosity, and joy in music.
Gettysburg College is a highly selective four-year residential college of liberal arts and sciences with approximately 2,600 students that represents 34 states and 38 countries. Over 200 full-time faculty members are highly committed to the power of a liberal arts education to develop critical thinking skills, broad vision, effective communications, sensitivity to the human condition, and a global perspective; all necessary to empower students to realize their full potential for responsible citizenship. The College was founded in 1832 and is located on a beautiful 200-acre campus adjacent to the Gettysburg National Military Park in Pennsylvania.