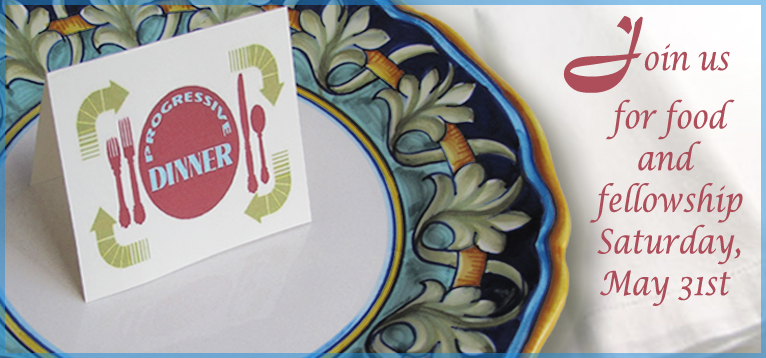 Please save the date – May 31, 2014 – and be a part of our annual Progressive Dinner festivities.
For over 30 years, the Progressive Dinner has been a celebration of warm weather and fellowship for our Church friends to relax and chat over appetizers, dinner and dessert.
Right now, you can help by signing up! All are welcome, whether you come alone or as a couple. We also need help in planning, hosts to volunteer their home for dinner, and help with dessert.
The evening will begin at 5:30p.m. with Hors d'ovres and beverages. Everyone brings a favorite little appetizer to share. At 7 p.m. we set out to our host home for dinner. Remember hosts do not need to do any cooking. The guests bring the food with them! The menu has not been set, but if you have any suggestions we invite you to join our planning group. Finally, we all come back together for dessert and coffee. The event finishes at 10 p.m. If you decide to join us, information will be mailed out to you one week before the Progressive Dinner. The cost is $8 per person.
If you want to come but need help with childcare, or if you have vegetarian or other dietary concerns, please give Louise Fang a call (962-4515) .
Sign up in the gathering space if you'd like to attend and/or host! We look forward to seeing you at the party!!!
~ Louise Fang