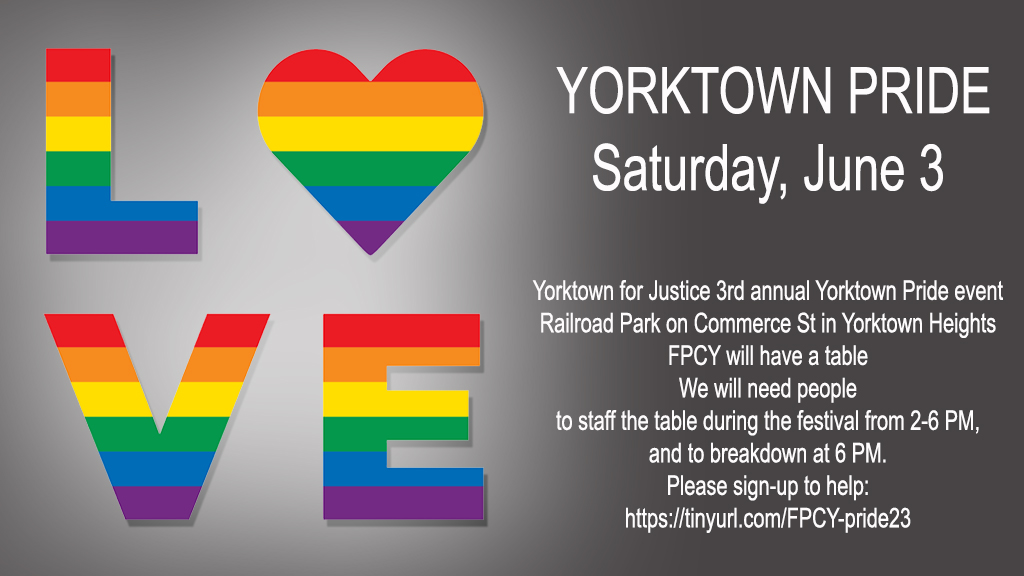 Join us on Saturday, June 3 at Railroad Park at Commerce Street to celebrate Yorktown Pride, sponsored by Yorktown for Justice. (Learn more)
We're looking for folks to staff the table and help break it down and bring things back to the church. We'd like four folks from 2 to 4 PM and four from 4 to 6 PM, plus two more people to break the site down.
The March begins at 1:00 pm sharp at the Yorktown Town Hall. We will meet there between 12:30-12:45, so we can walk together as a group. Bring your Pride posters!
The Festival will be held 2-6 pm at Railroad Park (Commerce Street) where the march ends. FPCY will have a table at the festival (#18 located between the Depot and Playground). We will be handing out beach balls, buttons, bookmarks stickers and temporary tattoos. We will also have a temporary tattoo station set up with water so that people can put their tattoos on while visiting our table.
Weather is looking a bit chilly with possible showers, so please dress accordingly. For those staffing our table, bring a lawn chair if you want to sit.
Parking is available in the following areas:
Yorktown Town Hall has 110 spaces ( furthest from the park but still only 0.2 Miles away)
Courtyard at 334 Underhill Avenue since Furci's Restaurant is closed
Angelface Day Spa at 317 Underhill Avenue, Access
Physical Therapy at 1825 Commerce Street, right across from Railroad Park
Any section of the Yorktown Green parking lot which contains Uncle Giuseppe's and the vacant K-Mart space and is directly across the street from Railroad Park.
You can also let Connie Knapp (connie.knapp@icloud.com) or Kaycee Perry (Kayceeperry2@gmail.com) know of your interest.