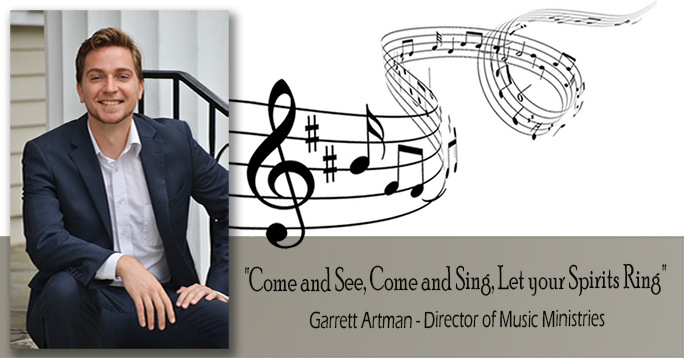 On Sunday April 26th you may have noticed a new pianist in our midst that certainly wasn't anybody from the church. That was my dear friend, Amy Irish. Amy is an accomplished performer and pedagogue receiving her Bachelors of Piano Performance at UMaine, Masters of Music in Piano Pedagogy at UNC Greensboro, and her post graduate certificate in Piano Performance at the Royal Scottish Academy. She performed Brahms Intermezzo in A Major. I ask you to find a recording of this piece and simply meditate on it for a moment. Listen to the way those first three notes set the entire piece in motion. As it unfolds and develops, I feel the music is "searching" for a way forward, attempting to find just the "right" note.
On Sunday April 5th, you may have noticed a new trumpet player in our midst that certainly wasn't anybody from the church. That was my former college professor, Dr. Jack Burt. He earned degrees from the Baldwin-Wallace College Conservatory of Music, the University of South Carolina, and his Doctorate at the University of Texas at Austin, with additional private studies in Berlin, Germany. We performed the third movement of Haydn'sTrumpet Concerto in Eb. Haydn was good friends with the German trumpet virtuoso Anton Weidinger, and Weidinger had been working on a new trumpet design for several years. Haydn wrote his trumpet concerto with the specific intent of "showing off"the capabilities of this groundbreaking trumpet design –which had been delayed for over four years because Weidinger was "searching" to find just the "right" design.
There were many other performers contributing to our music ministry, and hopefully you've recognized them, either by sight or sound. I just want to give a shout out to all of those providing music for us in times like these: Carol Jensen, Christie-Virtue Herman, Katharine Frase, Liam McAuliffe, Sophie Low, Ben Low, Dick Mills, Amy Wallace, Abby Cross, John Winget, Ed Dowdall, Jill Tomczuk-Dowdall, and of course the FPCY virtual choir!
I work very hard to make music meaningful in our lives. Constantly "searching" for just the "right" piece to accent our sermons and scriptures. Solving this problem is not achievable by myself either. While I enjoy seeing the photos of you in the sanctuary, I do miss your singing of the hymns and I am in need of more volunteers to share music with those of us in the church! Yes, your animals are very cute on these zoom calls, but to have a family singing together or playing together, to have you share a hymn that got you through a hard time and brought you closer to God, that is what we need right now. Please collaborate with me and consider recording yourself playing, painting, singing, dancing, drawing and sending it to garrett@fpcyorktown.org (and if you don't know how to send a large file, just ask!)
~Garrett Artman