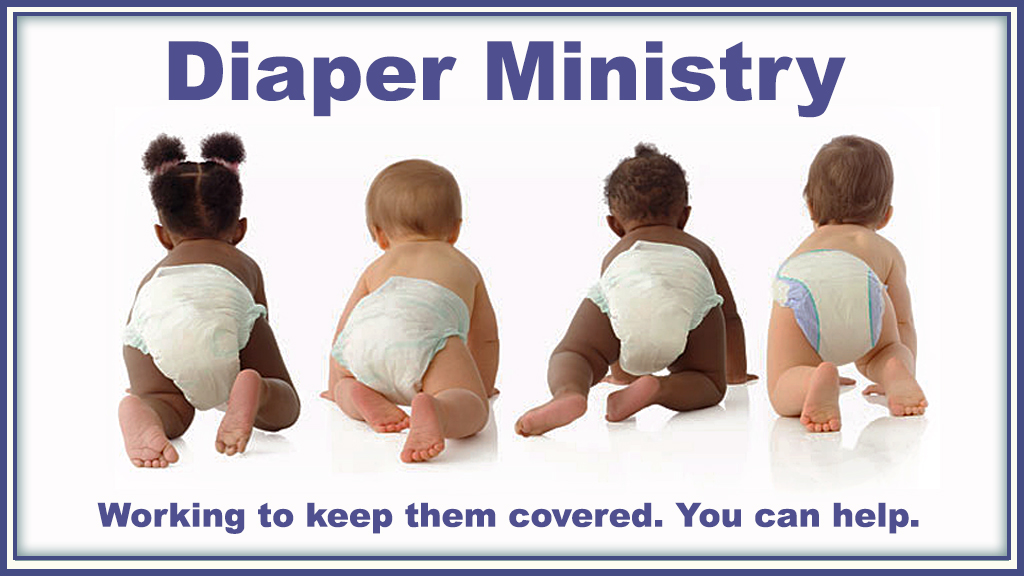 Do you belong to BJ's and get the big coupon book every few weeks? Do you get diaper coupons when you don't have kids, or when your youngest child is long out of diapers? Please pull those diaper coupons (BJs brand: Berkley Jensen) out of the book and turn them in to the office (in any way– even the offering plate!). Sue Nelson buys the diapers for our diaper ministry, and always appreciates a way to save a bit of money.
Our Food Pantry distributes diapers to our pantry clients once a month, offering 3-4 days worth of diapers, thus relieving their food budgets a little bit, since diapers and other hygiene supplies are not purchasable with food stamps. This ministry costs us $400 per month.
Note that we also supply senior products (such as Ensure and incontinence products) to our senior clients. This ministry also costs the Food Pantry about $400 per month. So we would also appreciate coupons for Poise, Depends, Ensure or the BJs brand of elder incontinence products.
Can you help out with a one-time, or even better, monthly donation? Food Pantry donations support all of the efforts at Food Pantry Plus, including the diaper and elder care ministries. Send or deposit in the offering plate a check labeled "Food Pantry," or contribute online (where it's easy to make it recurring).