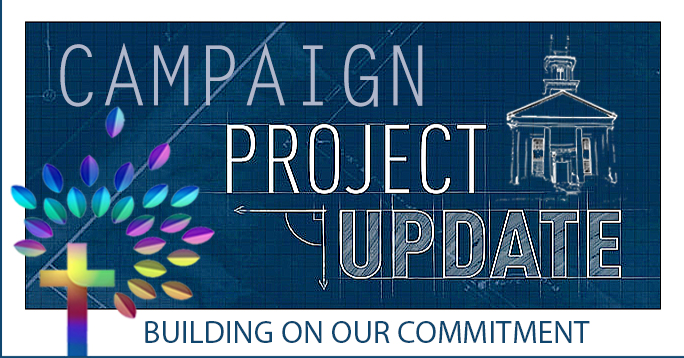 Have you seen our new office entrance?
The columns are in place and painted.
Speaking of paint, doesn't the new door look fantastic? The main back entrance now looks like a main public entrance!
The wider office door with ADA compliant accessibility is installed and working. If the door is unlocked and you need assistance opening the door, simply press the round button on the column and the door will slowly swing open (and close behind you).
Ongoing Operations Projects
Sanctuary Basement project is in its final phase. The moisture remediation is complete and the new air handlers are being installed. Many thanks to Dick Seymour for overseeing this project.
The aging (and failing) fire panel has been replaced with a newer (and smaller) model.
The Fall Clean-up was a success and our property is ready for winter (even if some of us are not).
Thanks to Dick, Bud and Jerry for some outdoor restoration work on the Sanctuary and CE Building (sanding, caulking, priming, painting, board and window replacing).
We have more exciting projects in the planning stages — and the support and generosity of the congregation makes all of this possible. If you haven't yet made a commitment, please prayerfully consider participating in this campaign for the present (and future) of our ministries of faith.
Pledges can be made via myFPCY.org. One time gifts can be made at: http://tinyurl.com/FPCYCapital
Gratefully,
The Campaign Project Management Team