New Visitor's Guide
Directions
(Click on the map pin to get directions.) 2880 Crompond Road,Yorktown Heights, NY,10598
(914) 245-2186
Detailed Directions
From the North:

Taconic Parkway South to the Yorktown Heights/Route 202 exit (NOT the Bear Mountain Parkway/Route 202 exit). At the end of the exit ramp (1/4 mile) turn left on Route 202. Follow Route 202 east for 3/4 mile to light and intersection of Route 132. Church will be on the left. Turn left and then first left into the parking lot.

From the South:

Taconic Parkway North to Route 202 exit. Turn right onto Route 202 (east). Go 1/2 mile to light and intersection of Route 202 and 132. Church will be on your left. Turn left then first left into the parking lot.

From the East:

Route 35 to light in center of Yorktown and intersection of Route 202 (Mobil station on left). Turn right at light, following Route 202 West for 2 miles to intersection of Route 202 and 132. Church will be to the right. Turn right at light and first left into parking lot.

From the West:

Route 202 East. From the Taconic Parkway interchange, go 1/2 mile to light and intersection of Route 202 and 132. Church will be on your left. Turn left then first left into the parking lot.
Our regular worship services are on Sunday mornings at 8:30 and 10:45. Church school ("Sunday School") and adult education classes are held at 9:30. During the summer, we have one worship service on Sunday mornings at 9:30. All children are welcome in our services.
What Can I Expect on My First Visit?
We welcome you, regardless of who you are, where you come from, or your religious background.  If you come to worship with us, you'll experience a service that blends traditional and contemporary styles of worship.  We pray, hear sermons, sing hymns, and enjoy music by our choir, bell choir, and soloists.  We use techonology to enhance our worship experience, displaying videos and pictures and even hearing sermons from abroad via Skype and the Internet.  Our sanctuary space is handicapped accessible and open to all. We invite you to come as you are. We do not expect formal attire…..jeans and sneakers are as welcome as suits and ties. All children are welcome in our Church School and in our services.  Adults are invited to our regular adult education classes.
What About My Kids?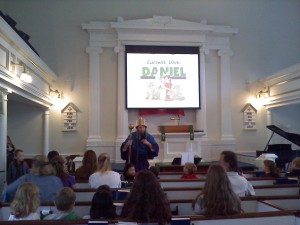 Our Church School (Sunday School)  welcomes preschoolers through high-school-age youth each Sunday morning at 9:30 a.m.  Church School starts in the Sanctuary with "Gathering Time", a joyous expression of faith in song, often accompanied by a signature element of our Church School . . . a Bible story brought to life by talented actors from our congregation.  Then the children divide into age-specific classrooms for hands-on activities that help reinforce the lessons from the Bible story.
Children are welcomed at our worship services.  Many services include a "Time with Children" segment, during which children are asked to join our pastor at the front of the Sanctuary for a short topical discussion. Children return to their parents in the pews after a "Time with Children".
Coloring books and crayons can be found at the back right of the church!
Nursery care is available for infants through age five in the nursery room immediately to the left of the ramp from the Gathering Space to the Sanctuary, though you are also welcome to bring your babies and young children to the Sanctuary for the service.
Our church also hosts the Yorktown Presbyterian Preschool, a cooperative, non-profit, non-denominational preschool for 3, 4, and 5 year-old children. The Yorktown Presbyterian Preschool also offers a Mommy & Me class for 2 year-olds.  YPP accepts children with special needs as well as any required support personnel (SEIT, OT, etc.).
Our Families page outlines the variety of ways we support families in our congregation.
Meet Our Pastors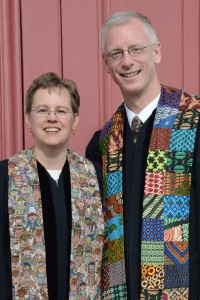 Our church has two co-pastors,
Tami Seidel
and
Chip Low
. Tami was born and raised in Lancaster, PA and is a graduate of Wellesley College and Princeton Theological Seminary. Chip was educated at Baylor University and Princeton Theological Seminary. He was raised in the Southern Baptist tradition in Houston, Texas, and came to know the Reformed faith and the Presbyterian church during his time at Princeton.
Chip and Tami share equally in pastoral care and preaching. They live in Yorktown and are raising three children.
Our Mission and Our Vision
Our Mission as God's People is:
To invite all into a dynamic relationship with Jesus Christ through worship, prayer, study and fellowship; and to work for God's peace, justice, and human dignity by reaching out to the world in a servant ministry.
Our Vision:
We are a community of faith, open to all, called to follow Jesus Christ, seeking to meet the spiritual and physical needs of our world with joy, support, and love.
Our Beliefs
You do not have to be a Presbyterian, or a formal church member, to attend worship with our church family. We welcome all who are searching for their spiritual paths, as well as those established in their faith. We are an inclusive church family that accepts all, regardless of their faith background, race, gender, sexual orientation, or financial status. Presbyterians do not have a set list of formal beliefs, other than accepting Jesus Christ as our Lord. Like the Apostle Thomas, many of us have doubts and are searching for our place in this world. Our Church helps us in that search. Click here if you'd like to know more about what it means to be a Presbyterian.
What is "More Light"?
As a "More Light" Church, we endorse  the More Light Presbyterians mission statement:
"Following the risen Christ, and seeking to make the Church a true community of hospitality, the mission of More Light Presbyterians is to work for the full participation of lesbian, gay, bisexual and transgender people of faith in the life, ministry and witness of the Presbyterian Church (USA)."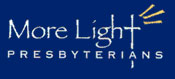 The phrase "yet more light" originated in Pastor John Robinson's  (1575-1625) sermon sending the Pilgrims off to the colonies, in which he stated the belief that God  does not reveal God's whole truth to any one person in any one point in history, and that we must continually be open to hearing the new things God is saying to us through the Word. The phrase is used in the Presbyterian Book of Order (G-18.0101) in support of the Presbyterian principle of the Church reformed and always reforming. Our goal as a faith community is to provide a spiritual home for all, including  the lesbian, gay, bisexual, and transgender (LGBT) communities, and to meet the spiritual and physical needs of those around us.
Church Organization in a Nutshell
Lay leadership at the First Presbyterian Church  is divided in the following way
The Session and Deacons, organized according to the Constitution of the Presbyterian Church (U.S.A.). The Session sets policy for and makes major decisions about the church.  The Deacons care for the congregation and community.
A corporation chartered under the laws of New York State. The Elders of the Session serve as Trustees of the Corporation.
The smooth functioning of the church and its mission is largely accomplished by a number of commissions, managed by enthusiastic and creative members of the congregation who contribute their time and talent to do God's work in our time and place.
Joining Our Church
We invite you to join in ministry with us. Come to worship, get to know us, and if you are interested, we invite you to consider  joining as a church member.