Music
Music Program
Music at FPCY includes:
Hymns at every service, using our organ, grand piano, or electronic harpsichord
Adult choir of about 25, who sing at most 10:45 a.m. services, and at spring and fall concerts
Adult bell choir of 12-14, who play during services, 4-6 times per year
Youth bell choir of about 10, who also play during services, 3-4 times per year
Concert series of 5-6 concerts including both professional guest musicians, choir members, and our Music Director
Music Director – Simona Frenkel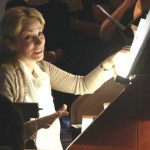 Simona Frenkel has been the musical director of the First Presbyterian Church of Yorktown since 2000, and is also an internationally acclaimed musician. A native of Kiev, Ukraine, she holds an M.M. degree in Performance from Juilliard School of Music in New York, and a Ph.D. in musicology from the Kiev Conservatory. In 1994, she became the youngest organist ever to receive the national award "Honored Artist of the Ukraine". Ms. Frenkel is heard frequently in recitals in the United States, Europe, and the former Soviet Union. She has made numerous television and radio recordings.
Here's a video of Simona, playing Mussorgsky's Pictures at an Exhibition on the Rieger- Kloss organ of the National House of Organ and Chamber Music, Kiev, Ukraine.

Notes from the Music Program
written by Carol Jensen
Our music programs provide ways for youth to participate in the life of the church.  Simona Frenkel organized a youth handbell choir in 2002, and about 40 young people have been involved in it since then.  They learn general musical skills as well as the specific skills needed to play handbells.  Some of them have also contributed to the adult handbell choir or the adult choir.
Simona also encourages vocal development of talented youth.  Two outstanding examples are Sean McAuliffe and Amy Savino, who have amazed and moved us with their singing. Both of them had some prior experience with music, but Simona has encouraged and coached them.  They assert that they couldn't be where they are without her teaching skills her support and caring.  Sean took voice lessons and sang in two choirs at the college he attended.  Amy has competed in the finals of a classical singing competition for high school students in Chicago, and attended a summer program at the Eastman School of Music.
All of us (and especially Simona!) are very proud of all these young musicians.   Simona invites more teenagers to join the handbell and choir programs.
New Harpsichord
Heartfelt thanks to Cal Weber and the donors to the Kathy Weber Memorial Fund for the harpsichord which has been placed in the sanctuary in memory of Kathy. The harpsichord was used for the first time at the Christmas 2010 concert! This gift is sure to enrich our worship services and music program and we are all most grateful.
Concert Series
The Concert Series was initiated in the Winter of 2001 as a musical outreach to the community, to provide high quality musical concerts at little or no cost. (Previously, an Organ Concert Series was held in 1995-1996). The Concert Series is organized and facilitated by the Concert Series Task force under the auspices of the Worship Commission. The funds to support the series are provided by annual donations of music patrons; the concert series is entirely self-supporting.
The concerts held over the years include:
2012-2013
December 7th, 2013 – Fall Concert with Concertino NY

2012-2013
October 14th, 2012 – Jazz Concert – The Cary Brown Trio
December 2nd, 2012 – Christmas Choir Concert – The Messiah
February 10th, 2013 – The Bob January Swing Dance Orchestra
April 21st, 2013 – Spring Choir Concert
2011-2012
November 6th, 2011 – Jazz Concert – The Cary Brown Trio
December 11th, 2011 – Christmas Choir Concert – Charpentier, Soler, Chilcott
April 22nd, 2012 – Choir concert with the "Juilliard 415″ Early Music Ensemble
May 12th, 2012 – Cabaret Evening
2010 – 2011
December 5th, 2010 – Choir concert – Handel's  Messiah
December 29th, 2010 – Candlight Concert with David Baranowski
March 6th, 2011 – Bob January Swing Dance Orchestra
April 3rd, 2011 – The Yale Whiffenpoofs
May 15th, 2011 – Choir Concert
2009 – 2010
December 13th: The Adult Choir, Simona Frenkel, Director – Vivaldi Gloria
December 27th: David Baranowski – Candlelight Concert
April 25th: The Adult Choir, Simona Frenkel, Director – Pergolesi Stabat Mater, Chilcott Jazz Mazz, and several Rachmaninoff pieces
2008 – 2009
November 16th:  The Cary Brown Trio
December 7th: Simona Frenkel, Director – Handel's  Messiah (Parts I and II)
December 28th: David Baranowski – Candlelight Concert
February 22nd: Carnaval – Bob January's Swing Dance Band
March 8th: Young Artists Concert – Special Music School NYC
2007 – 2008
November 18th Varick String Quartet
December 16th Simona Frenkel, Director – Bach Christmas Oratorio
December 30th David Baranowski – Candlelight Concert
Spring: Simona Frenkel, Director -  Schubert Mass in G, Lieder and Musical Schubertiana
2006 – 2007
December 10th: Simona Frenkel, Director – Vivaldi Gloria, Bach Concerto
December 27th: David Baranowski -  Candlelight Concert
February 11th: Simona Frenkel Director – David Glukh and Handbells
March 25th: Simona Frenkel, Director – "Billings to Broadway"
2005 – 2006
December 4th: Simona Frenkel, Director – Selections from Handel's Messiah and "Come Ye Sons of Art"
December 28th:David Baranowski – Candlelight Concert
March 5th:  The Yale Whiffenpoofs
April 30th: Simona Frenkel, Director – "Pretty Much Mozart"
2004 – 2005
November 14th: The Brass Apple Quartet
December 5th:  Simona Frenkel, Director – Handel's  Messiah
January 9th:  Scarboro Trio
February 13th: Cary Brown Trio (Jazz)
April 10th: Simona Frenkel, Director  Spring Concert
2003 – 2004
October 5th: Organ Concert with Stewart Holmes (children's concert)
December 7th : Simona Frenkel, Director Christmas Concert, variations on "Ave Maria"
December 28th : David Baranowski Candlelight Concert
February 8th: Cary Brown Trio (Jazz)
Mrch 21st : Scarborough Trio
April 25th Simona Frenkel, Director Spring Concert
2002 – 2003
September 29; Annie and the Natural Wonder Band
December 15th: Simona Frenkel Director – Handel's Messiah
December 29th; David Baranowski Candlelight Concert
February 11; Christopher Lewis, Piano
April 6th : Simona Frenkel, Director: Elijah
May 4th: Bob January and his Satin Swing Band
2001 – 2002
November 11: David Baranowski, Piano, Atsuko Takahata, Clarinet & Jeff Shah, Cello
December 16th    Simona Frenkel, Director - Handel's  Messiah
April 29th :  Christopher Lewis, Pianist
May 20th;  Kathleen Vande Berg, Director – the music of  Stephen Sondheim: from "Into the Woods"