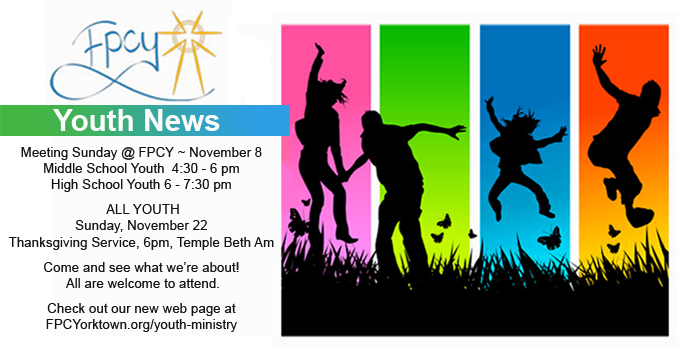 November 8
Middle School Youth 4:30 – 6 pm
High School Youth 6 – 7:30 pm
November 22
MS Youth perform "Jesus is Coming to Dinner" during the 8:30 and 10:45 Worship services
All Youth: Community Thanksgiving Service at Temple Beth Am
meet in the FPCY parking lot at 5:30
Service at 6 pm
Questions? Please reach out to the church office by phone or email youth@fpcyorktown.org
Throughout the Fall this year we have been discussing many issues related to Food Justice. This month, we are wrapping up our exploration of Food Justice on a sweet note by preparing dessert for some of our congregation's ministries that focus on feeding the hungry. So if you like baking brownies, eating brownies, being of service to others or just hanging around in the kitchen, come join us on November 8th – MS at 4:30, HS at 6:00.
Also on November 8th, the MS group will rehearse a play that we will present as a staged reading in Worship Services on November 22nd. If you are interested in participating in the presentation, please make sure you attend our meeting!
In the evening of November 22nd, we will join together as one group to attend the Yorktown Community Interfaith Thanksgiving Service. This year's service is being hosted at Temple Beth Am. We will meet in the FPCY parking lot at 5:30 to travel to the Temple together. This service is a very special opportunity to join together with members of our community from across faith traditions.
All youth are always welcome, so even if you haven't come to Youth Group this year, you can drop in at any meeting.