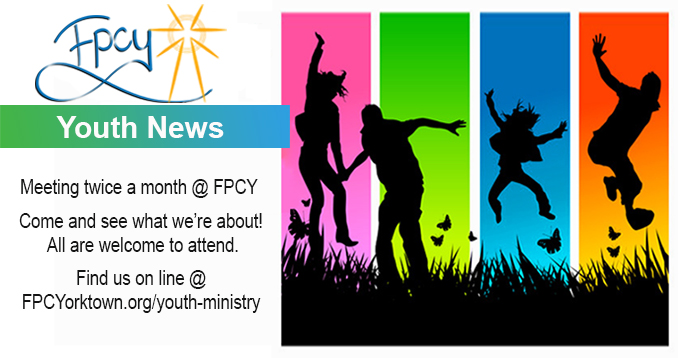 We've got a lot of Youth stuff going on in February! Check out these important dates and see below for more info on each:
All Youth: Sunday Feb 9, 3-6 pm – help us bring some love to our seniors!
Current 8th -12th graders: reserve your spot at Montreat by Feb 16
Youth Groups at regular times on Feb 23
Volunteer at the Shrove Tuesday Pancake Supper on Feb 25
This Sunday, Feb 9 from 3-6 pm, we're going to spread some love to the senior members of our congregation by bringing the gift of song.
Let us know that you're coming.
All Middle and High School Youth are invited to come along. We're looking for a few fun loving adults to come along and help out by driving us around too. We're going to be roving, singing Valentines to our senior neighbors!
We'll gather at FPCY at 3 pm to run though three songs with our music director Garrett – two songs you probably know already and one more that's super easy to learn – then we'll hop in cars and drop in on some of the most senior members of our congregation, returning to the church by about 6 pm.
It's going to be super fun, super joyful, and a great gift of 'presence.' Even if you prefer humming along over singing out loud, join us!
So let us know that you can come and if there's an adult in your family who can drive by clicking on the link above.
Pssst… Youth who are 15 and older or will be by mid July and Adults: interested in this Summer's Mission trip to Puerto Rico?
Come to an informational meeting this Sunday after the second service and learn more.
And coming up in the next couple of weeks…
On February 23, we'll have Youth Groups again at regular times, and then on Tuesday, February 25, it's our annual Shrove Tuesday Pancake Supper!
As is our tradition, our Confirmation class will be the cooks in the kitchen, flipping the pancakes and sausages.
All other Youth will be servers and greeters as we transform the Fellowship Hall into our Mardi Gras themed dining room.
Sign up for a serving slot. Proceeds from the Pancake Supper will support our team going to the Montreat Youth Conference this summer.
Wait, did you say Montreat?!?
The dates for Montreat Youth Conference are August 1 – 8, 2020.
Let Steph know by February 16th if you are interested in going.
MYC is a unique gathering of young people from all over the country for a week of study, worship, and recreation in the beautiful mountains of western North Carolina. Activities include morning energizers, music, keynote, small group meetings, afternoon recreation activities, and evening worship. Registration is now open for current 8th graders up through High School Seniors.
Here is an info sheet and instructions on how to register.