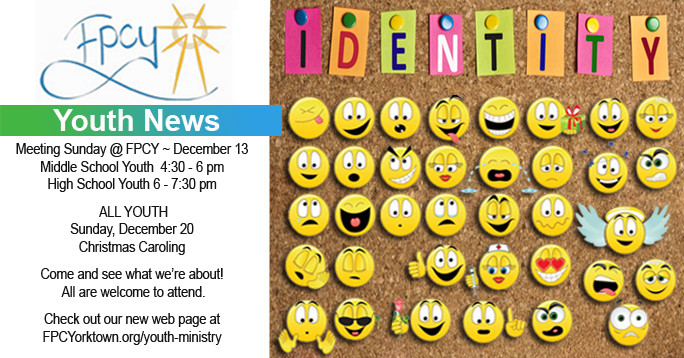 December 13:
Middle School 4:30 – 6 pm;
High School 6 – 7:30 pm
Join us for games and songs as we enter the Christmas season and ask some big questions… game show style!
December 20:
Christmas Caroling!
All Youth 3 – 6 pm
Feel free to wear red, green, reindeer antlers, jingle bells or whatever festive gear you like. We are teaming up with the Deacons to visit senior citizens of the congregation and spread Christmas joy! We will meet at the church at 3 pm, then split into two groups to carol, then return to church for food and fellowship time.
As always, all youth are welcome, whether you've been coming all year or not, so join us and feel free to bring a friend.
Have you volunteered at church activity such as a church clean-up day, greening, or mission project? Do you also need community service hours for school? Make sure to speak to Steph or any of the adult youth leaders for a service hours form.