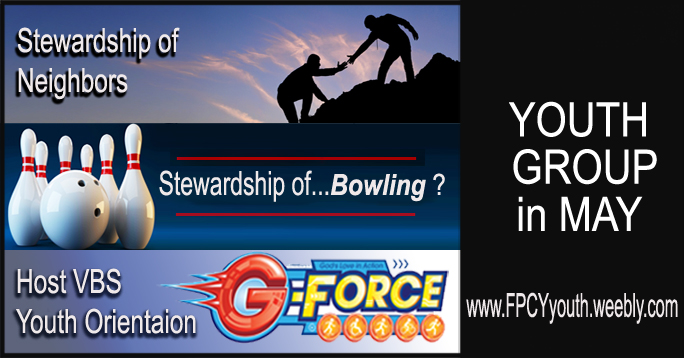 Middle School:  Stewardship of Our Neighbors
May 17     4:30-6 pm
 Who are our neighbors? What can we do to make sense of our differences? Come tonight prepared to walk a mile in a different pair of shoes.
---
May 31    
 3:45-6:30 pm

   Stewardship of…Bowling?

Yes, you heard correctly. We are taking our stewardship lessons on the road.What does it mean to care for our neighbor outside of our youth group meeting space?  For example, in a bowling alley? We'll play a few frames and think about some of the things we talked about during our May 17 meeting. Plus, being good Presbyterians, we'll probably have some snacks too.In order to join us, you'll need to have a completed permission slip on file in the office. At the bottom of the home page of this website, you'll find a link that will enable you to download the form. Download it, fill it out, send or bring it into church with you.DETAILS TO FOLLOW!
---
May 31 6:30-8 pm   
We're Hosting the VBS Youth Orientation!
Bring your friends and come to this session to learn about all the great chances there are to help at Vacation Bible School!
CLICK HERE FOR MORE VBS INFORMATION!