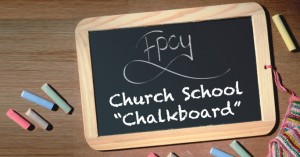 We've had a amazing start to the new Church School Year! The children, along with their backpacks, received blessings. Classrooms are filled with chatter, delight, and the joyful hustle and bustle of children settling in. The teachers are implementing the Spark Activate Faith curriculum with enthusiasm and at snack time the children socialize with friends!
Worship songs the children are singing this month include "He's Got the Whole World in His Hands," "Jesus Loves Me," and "Hallelujah! Praise Ye the Lord".
We will be having two special events in the Fellowship Hall: October 4th, a Communion lesson where all grades are welcome, and October 25th a Harvest party!! Yay!
Our first Rotation's Bible story for Pre­K through Grade 4 "Creation" Genesis 1:1­31; 2:4­25 will end, then we begin our next story, "Fruit of the Spirit" Galations 5:16­26, on November 1st.
Some gentle reminders:
1. Please register your child if you haven't already.
2. Please fill and return Photo opt­out form.
3. Please fill and return Allergy form.
Thank you all for a wonderful beginning to our Church School Year!
Peace,
~Liza Placido and Michele Mosca