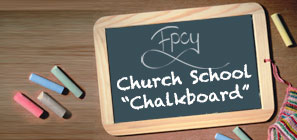 Spring has finally arrived! The daffodils are dancing and the sun is shining. The weather and preparation for Easter gives us renewed hope of better days to come. The church school children have already began exploring Easter traditions around the world. There are many ways different cultures celebrate Jesus' resurrection. The abundance of traditions helps us to remember Jesus' victory over death. The memory verse in this unit is "So, whether you eat, drink, or whatever you do, do everything for the glory of God."
We celebrate the last two Sundays in Lent by continuing to help the food pantry. The following items are on their wish list:
4/13 – Canned Fruit
Any donation you can provide would be gratefully accepted!
Looking ahead to May, we invite all parents to join us on Sunday, May 11th as the church school children celebrate both mothers and fathers on that day.
It is hard to believe, but there are less than 10 weeks left in this Sunday school year!! The children are soon going to be practicing for Children's Day.  Please try to come a little earlier so we can not only get our regular lessons in, but have time to practice together before departing the sanctuary for our rotations.
We would also like to encourage any parents or other congregation members to become a shepherd for the 2014-2015 church school year.  We all have so much fun!
Happy Spring and Happy Easter!!
Jocelyn Fontana and Jen Dixon
Church School Superintendents