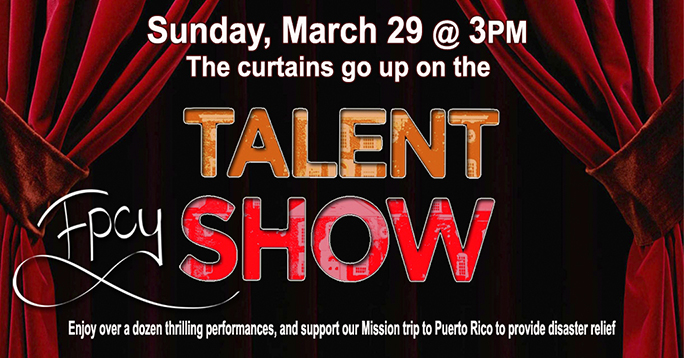 The Talent Show is postponed until further notice due to the Corona Virus outbreak
Hurricane María hit Puerto Rico in September, 2017. The federal government declared the entire island a national disaster. Thousands of people lost their lives and thousands of homes were destroyed or damaged. The people of Puerto Rico are still suffering from the effects of the hurricane, with thousands still living under tarps. Recently, earthquakes have caused more damage to homes and infrastructure on the island.
The talent show will kick off our April fund-raising campaign to support this mission trip to help with clean up and rebuilding. Our FPCY volunteers will be covering the cost of their plane tickets and meals, and we are asking the congregation and friends to partner with us to provide funding for other expenses related to the project.