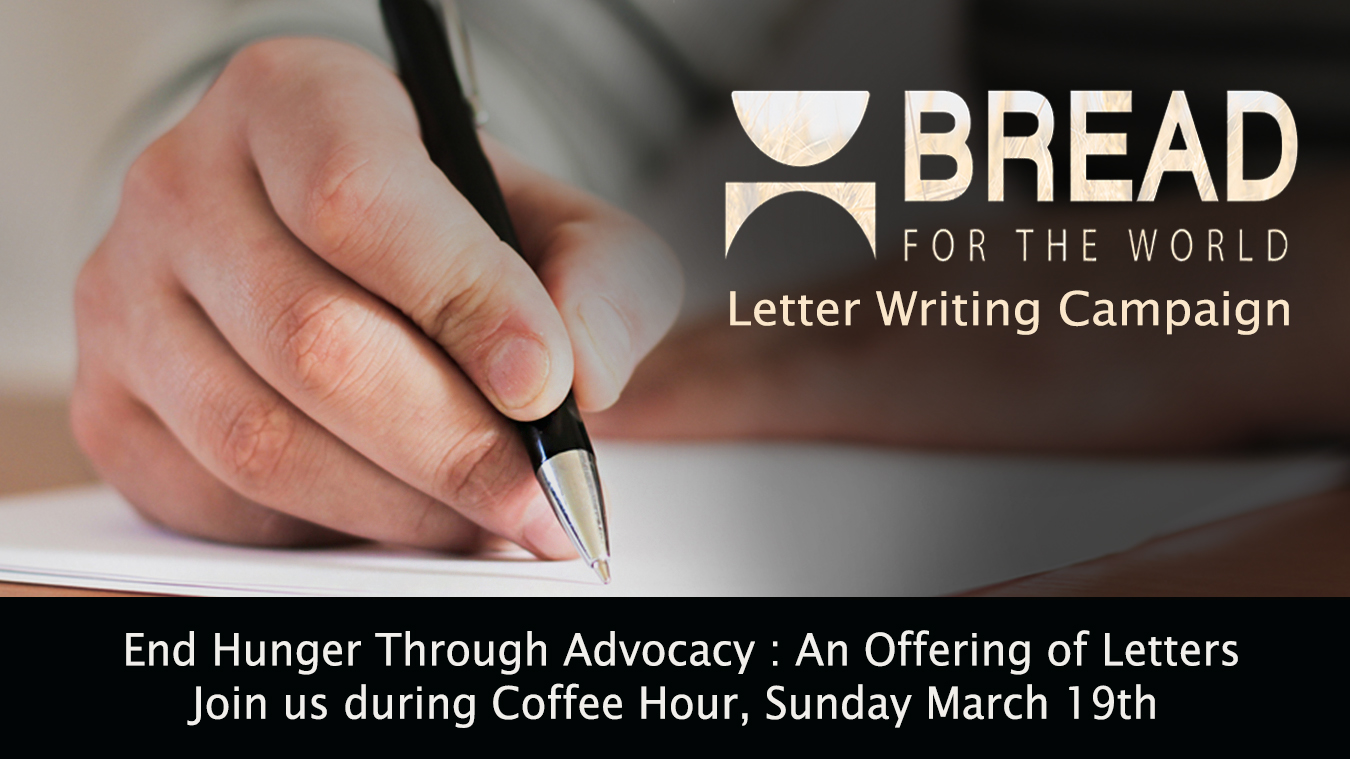 On Sunday March 19th, we started an Offering of Letters campaign organized by Bread for the World, a faith-based advocacy organization whose mission is "to educate and equip people to advocate for policies and programs that can help end hunger in the US and around the world."
The purpose of the Offering of Letters campaign is to encourage US senators and representatives to support a Farm Bill that will help build a healthy, equitable and sustainable US food and agricultural system. It will also provide nutrition assistance to millions of Americans through programs such as SNAP (Supplemental Nutrition Assistance Program).
During the coffee hours, our congregation wrote over 160 letters addressed to senators Schumer and Gillibrand and Representative Lawler! During its 50 years of the existence, Bread for the World has had a lot of success advocating for the passage of laws that help reduce food insecurity and injustice in our country. Just a few minutes of your time can have a real impact!
If you missed us on March 19th, it's not too late — you can still participate in the letter-writing campaign. Here are two ways you can do it:
In Fellowship Hall, there is a table along the north wall with an Offering of Letters poster. There you will find copies of three letters (one addressed to each lawmaker) and some envelopes. At the bottom of each letter, please sign your name and include your address. Then address an envelope to that lawmaker. Please include your return address on the envelope, seal the envelope, and place it in the box on the table.
Alternatively, you can print out copies of the letter and mail them yourself. Here is a copy of a Sample Letter. You can make three copies and edit each such that each lawmaker to whom you want to send a letter is addressed properly. Please sign your name and include your address under your signature, and remember to include your return address on the envelope. Here are the addresses for each of the lawmakers to whom the letters should be sent.
Senator Chuck Schumer
One Park Place, Suite 100
Peekskill, NY 10566
Senator Kirstin Gillibrand
780 Third Ave, Ste 2601
New York, NY 10017
Representative Mike Lawler
One Blue Hill Plaza
Third Floor
P.O. Box 1645
Pearl River, NY 10965
To learn more about the Farm Bill and Bread for the World, you can visit these links: