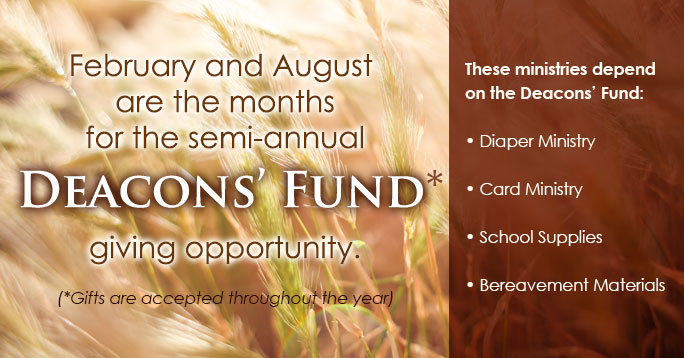 Many of us no longer use offering envelopes, so we don't get that little twice-a-year reminder about the Deacons' Fund.
In the midst of our blessings, however, the Deacons ask that you remember those who are not as fortunate as we are. While there is wealth of ways the Deacons reach out, there are several ministries which depend financially on gifts to the Deacons' Fund.
The Diaper Ministry, where each month we supply our Food Pantry clients with diapers for babies and toddlers
the Card Ministry and Bereavement materials, as the Deacons reach out personally to the ill and the grieving
the School Supplies distribution in August to help our Food Pantry clients send their children back to school with necessary items.
No matter what the season, the Deacons are ready to offer help. We ask that you join us this February and through the year in lending a helping hand and heart to those in need.
Please consider giving to this fund, either with the traditional envelope, with a check marked "Deacons' Fund" or online through MyFPCY.
We are grateful for the support of our congregation and community. We welcome your suggestions, your participation, and your prayers for our ministry.