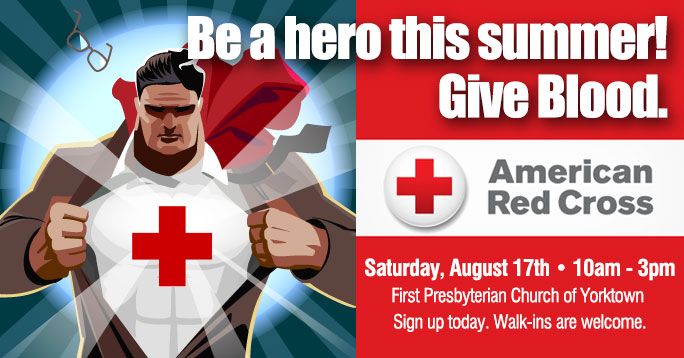 Did you know that every two seconds someone in American needs a blood transfusion? And did you know that all of us can help?
Your blood donation could help a newborn infant, someone being treated for cancer or a blood disorder or someone who has been in a serious accident. By giving blood, we may help save the life of someone's sister, father, or dear friend. We could even save the life of someone we know. Summertime is a more difficult time for blood banks to get donors, so we are again going to partner with the Red Cross in August.
BLOOD DRIVE—in our Fellowship Hall Saturday, August 17th—10 AM to 3 PM
OPEN TO THE PUBLIC…invite your family and friends!
To schedule an appointment to donate, go to www.RedCrossBlood.org and enter sponsor keyword: FPCY
New donors NEEDED….walk ins welcome! Your donation can save up to THREE lives!