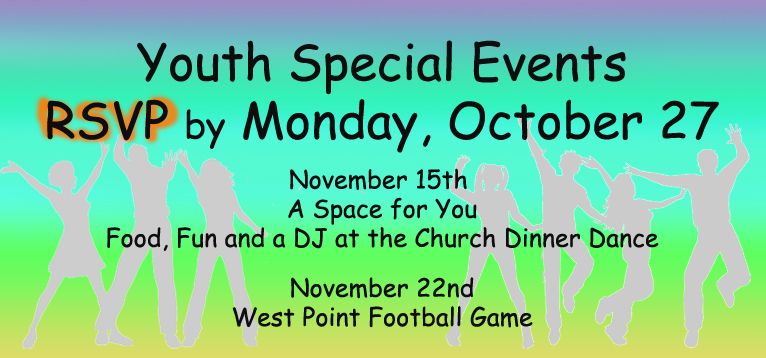 Two upcoming special events for the youth that require an RSVP by Monday October 27th
Youth will have a special space of their own– with their own music! –
at the Church dinner dance.
• WHAT: Great dinner and fellowship with a DJ who takes requests
• WHO: Middle and high school youth and their friends
• WHEN: November 15, 7 – 10 p.m.
• WHERE: Ceola Manor, 489 East Main St., Jefferson Valley, NY. Special separate area for teens and young adults youth group members and friends!
• COST: Before October 30, $23 per youth under 21. After October 30, $25 per youth
• RSVP: BY MONDAY, OCTOBER 27 TO youth@fpcyorktown.org
NOVEMBER 22 West Point Football Game
West Point takes on Fordham for an exciting afternoon of football. You don't have to be a football fan to enjoy the experience of a Black Knights game. The pageantry, the scenery, the beautiful campus all add up to what Sports Illustrated has called one of the best college football experiences in the country.
• WHO: Middle school and high school youth and their families
• WHEN: 12 Noon, November 22 Once we know how many will be attending, we'll arrange car pools.
• COST: $20 Note– tickets are usually $39, but Ken Sherman, our special events coordinator, has learned that veterans receive a special discount. Because Ken is a vet, the whole group shares in his discount!
• RSVP BY MONDAY, OCTOBER 27 TO youth@fpcyorktown.org
• Details: Dress warmly, bring snacks (a thermos of hot cocoa- yum yum!)
Thanks,
Karen
See the Youth Website for details and updates   fpcyyouth.weebly.com/