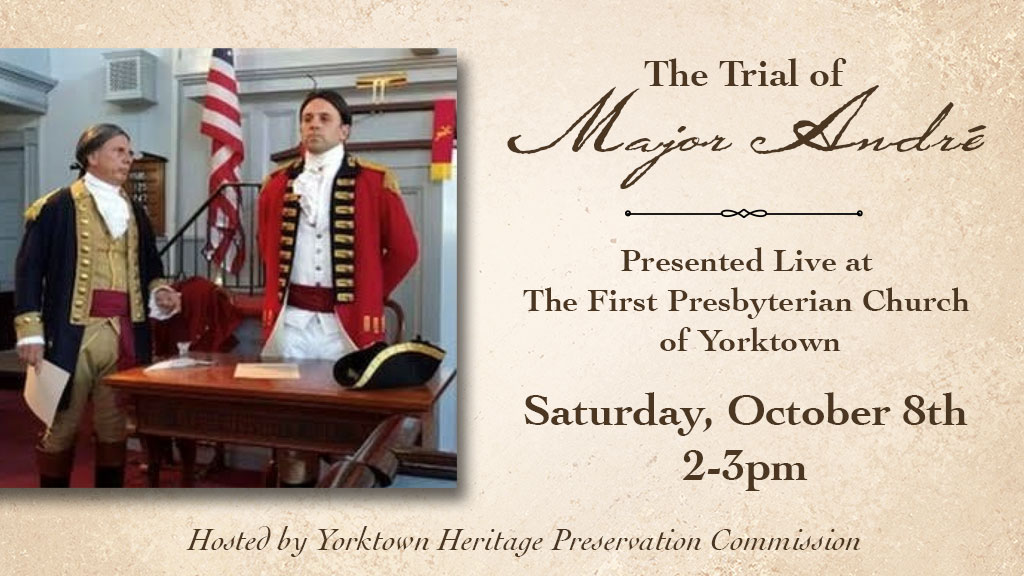 It is September 29th, 1780. The country has just learned the devastating news that American General Benedict Arnold has betrayed his country and was about to surrender West Point to the British. Arnold's accomplice, Major John André, has been captured and faces a military tribunal at the Old Dutch Church in Tappan New York.
Hosted by Yorktown Heritage Preservation Commission Yorktown 250 and Revolutionary Westchester 250
This Man's a Spy!
Partnering with Town of Yorktown, Yorktown Parks and Recreation, Yorktown Small Business Association, Yorktown Historical Society and Yorktown Arts + Culture Committee
THE TRIAL OF MAJOR ANDRÉ
A board of officers has been appointed that will decide whether or not Major André is an officer of the British Army or a spy. General Arnold has escaped and is now safe behind enemy lines. Written and performed by two local educators, the play recounts the trial that decides the fate of Major André.
2-3pm on Saturday, October 8, 2022 First Presbyterian Church of Yorktown*
Admission is Free and Donations Welcome – An Event for the Entire Family
*2880 Crompond Road; to park, enter the paved lot off of Route 132