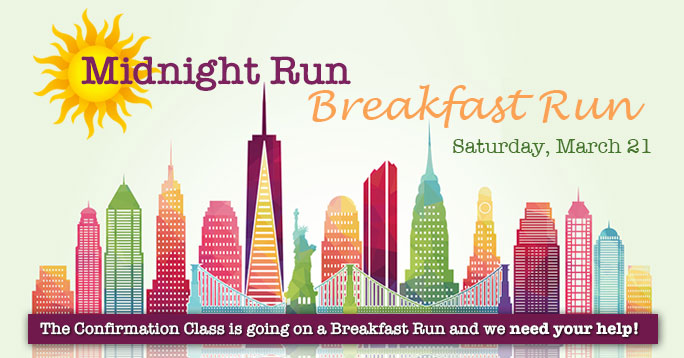 UPDATE

Dear Friends,

It's been tough week for all of us in light of our ever evolving understanding of the Covid -19 situation and the ripple of its effects on our families and community. As most of you know, we've had a Breakfast Run on the calendar for a while, in which our Confirmation Class was to bring food, clothing, and community to the folks living on the streets in NYC.

In light of the current situation, the responsibility of the Breakfast Run has been taken off the Confirmation Class and we have a group of volunteers from our congregation – outside of any risk categories – preparing to head down to the City on Saturday morning.

The Midnight Run organization has let us know that they are dealing with a massive reduction in the number of groups able to travel into NYC to distribute food and necessities to the people experiencing homelessness. So we ask for prayers both for our team going on the Run on Saturday, but especially for the homeless community who are experiencing even more profound isolation than usual as a result of our current public health situation.

For everyone who signed up to contribute food for the Run, THANK YOU! Please note the following modifications that we've made to our plan; we hope that you are still able to help us out with what we need.

If you volunteered to contribute fruit or danishes/pastries and are still able to drop them off at the church, please still plan on doing that.

If you signed up to contribute orange juice, we are now planning on bringing individual juice boxes/pouches (any brand, any flavor) rather than large cartons of of juice.

If you volunteered to contribute ingredients for our quiche making, we will not be making our own quiches – out of caution and necessity, we will be purchasing pre-made quiches. If you have already purchased ingredients, thank you for being so on the ball, and I hope that you are able to use these items for your own meal preparation in the coming days.

If you are still looking for a way to be involved, we will happily accept additional contributions of juice, fruit (ie: bananas and oranges), danishes, and bottles of water. Midnight Run has let us know that we should expect to see more than the 50 people we were originally planning for due to the decrease in opportunities to receive food.

All contributions can be dropped off at the church tomorrow, Friday 3/20. Please come to the office door and ring the doorbell if the door is locked.

Thank you all so very much for your support, flexibility, and patience as we have been tracking the news and updates on the virus situation in NYC hourly. Thank you for helping us reach out to members of our community who are so vulnerable and dependent on a fragile network of outreach programs for their survival.

Please reach out with any questions.

Blessings and profound thanks,

Steph Hare
The Confirmation Class is going on a Breakfast Run and we Need Your Help!
Breakfast Runs are facilitated by the Midnight Run organization, our partner in reaching out to people experiencing homelessness in New York City. This year, instead of going down to NYC late at night, our Confirmation team will head down early in the morning on Saturday, March 21 to set up a breakfast station at a location assigned to us by Midnight Run. The team will be serving breakfast foods that we've prepared the night before, handing out toiletries and a selection of clothing items, and making connections with our neighbors who are living outside. We expect to serve breakfast and talk to about 60 people, so we need the Congregation's help. So, here's where the part where you come in. We're asking for donations of the following items for distribution:
New Men's Socks and Underwear
New or Gently Used T-Shirts and Sweatshirts in Larger Men's sizes
Washcloths
Disposable Razors
Travel Sized Shaving Cream
These Items can be dropped off in the Gathering Space anytime up until Friday afternoon, March 20
Any Questions? Contact Pam Darreff or Steph Hare