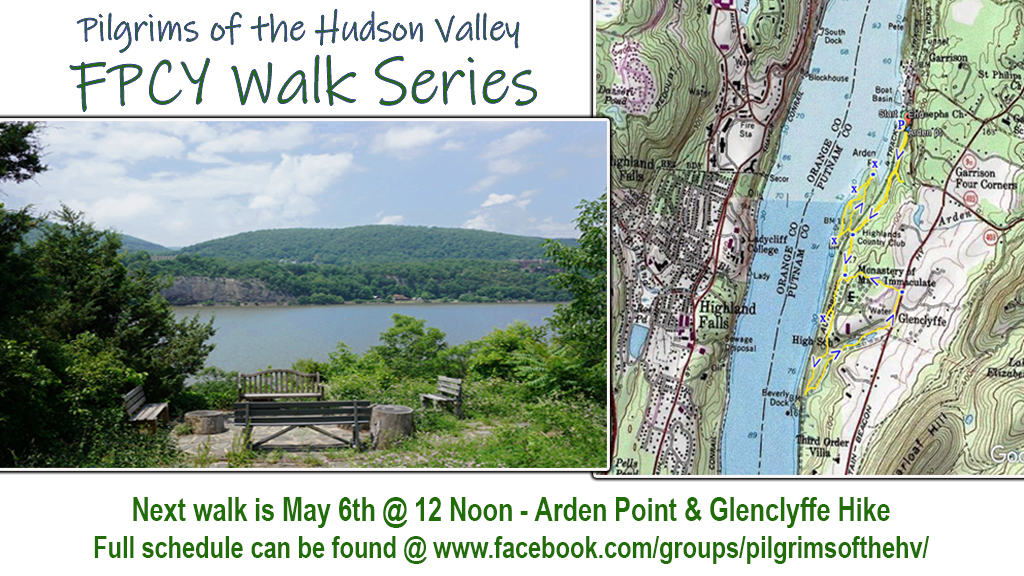 Arden Point & Glenclyffe Hike
Saturday, May 6 at 12:00 noon
Meet at the Garrison Metro North station on the Poughkeepsie-bound side
This is an easy and popular hike, with a variety of Hudson River views including West Point and the Bear Mountain Bridge. We meet at the Garrison Metro North station on the Poughkeepsie-bound side (free parking on weekends), and follow the trail from there around Arden Point. Then we'll continue on to the Glenclyffe loop, which circles the former friary, now part of the Open Space Institute.
The full hike is just under 4 miles and is quite level and manageable for hikers of all skill levels (and number of feet). Those who prefer a shorter walk can head back after the Arden Point section, for a loop of less than 2 miles. If you're been thinking about joining us but aren't sure how much walking you're up for, this is the one to try!
To continue your day, you can cross under the railroad tracks and check out Garrison's Landing, a quaint hamlet along the river. Check out the Art Center and an antique bookstore, enjoy drinks and a bite to eat at Dolly's Restaurant, and if you can manage to snag tickets, stay for the evening performance of Guys & Dolls at the Philipstown Depot Theatre—where you might even spot a familiar face!