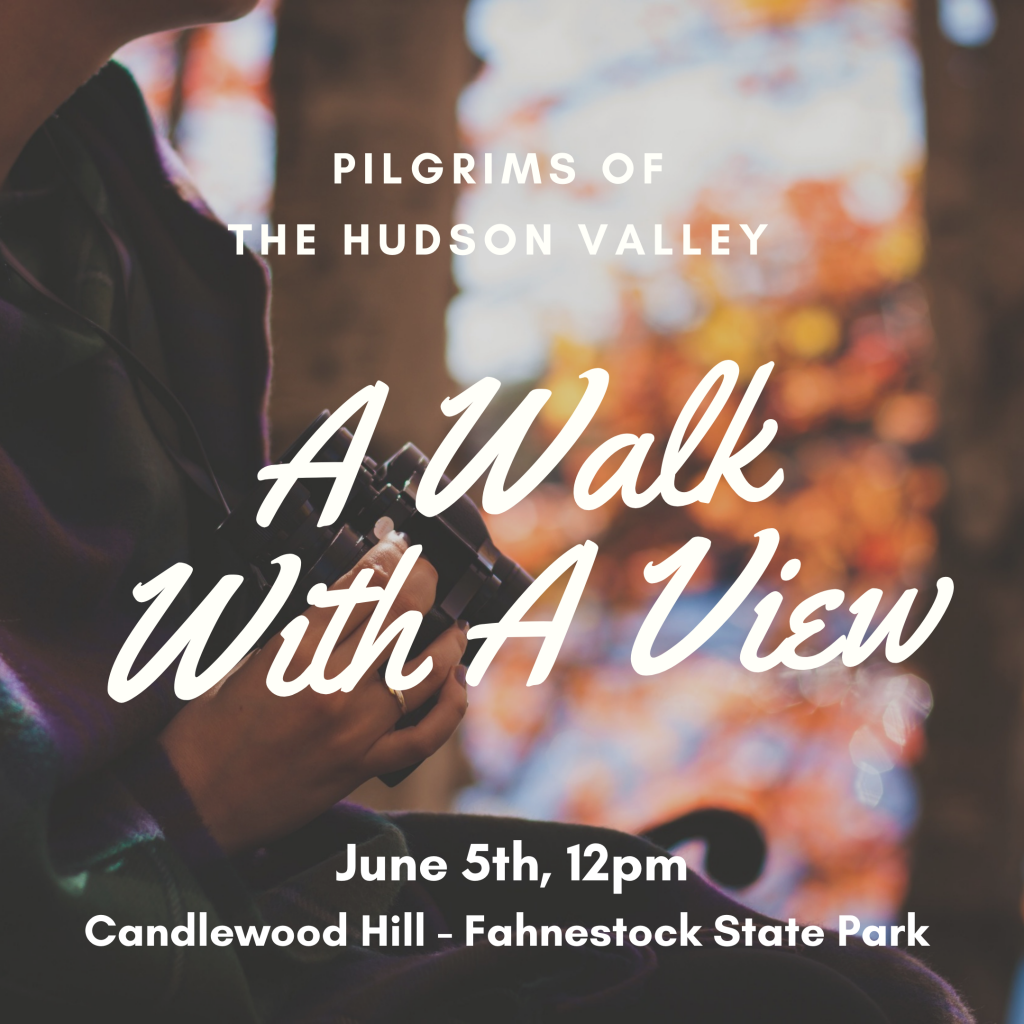 Join us for the 2nd walk in our "Pilgrims of The Hudson Valley" walk series. We'll have snacks, we'll have chats, we'll take some deep breaths and enjoy some time outdoors together. Please feel free to bring friends and family. While FPCY is sponsoring this walk series, we want to meet new folks as we walk, just like we would if we were making an epic cross-country pilgrimage. We meet at a designated spot and take attendance so that we make sure everyone makes it back to their cars at the end of the walk.
Candlewood Hill, Fahnestock State Park – Putnam Valley 12 PM
A quiet, not-too-difficult trail to a summit offering views in all directions, perfect for quiet reflection and spiritual renewal. The climb has a few rocky, scrambly bits, but is quite manageable for moderately active kids and adults—and pups, too! There will be a nature scavenger hunt for kids with prizes. There are also opportunities to explore lakes, and the old, abandoned iron mines located in the park.
The Walk
We'll be walking for an hour to an hour and a half exploring a small portion of Fahnestock State Park. Here is an aerial map of our planned path. Nathan Perry will be our guide on this walk and we'll make sure no one gets lost!
Meet-Up
Our meet point for this walk is at the end of Bell Hollow Road in Clarence Fahnestock State Park. Bell Hollow is a long, paved, dead-end road that leads right up to the state park boundary in Putnam Valley. There is no formal parking area for this trailhead (the nearest lots are almost two miles away and will probably be full anyway), but it's a quiet, isolated area with room for a number of cars to park at the dead end.
Here is a map showing our meet point ("M"), the trail we will follow (in red), and suggested areas to park (yellow highlight). Drive to the end of the pavement and pull in as far as possible on the gravel section, favoring the middle and left side to avoid the ditch. You will see a sign reading "No Motorized Vehicles"—the road is impassable to cars at this point, so that's where we'll start walking. You'll also notice the Candlewood Hill trailhead leading into the woods on your right, which is where we will be coming out at the end of our hike.
If the gravel section fills up, you can also park along the road itself. There are a few homes along the left side, so it's best to park on the wooded side across from them, taking care not to block any driveways.
NOTE: Part of our walk follows the Sunken Mine Road, an unpaved road that leads through the park and is open to vehicles. If you know Fahnestock well, or just want to do some exploring on your own, you can also park along this road—there are a few parking turnouts along the stretch we'll be following that are usually not taken. From there you can walk back to the meet point, or just wait for us to come to you. Just be aware that, while not too far as the crow flies, it's a long way around to drive between Bell Hollow and Sunken Mine roads. So choose carefully!
For More Information
Please join the Pilgrims of The Hudson Valley Facebook Group here. If we have to postpone due to inclement weather, or if there are any last-minute changes, we'll post there to let our walkers know.